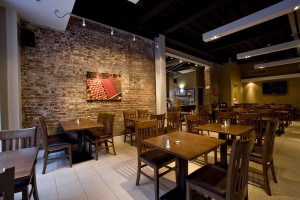 Top restaurants don't only rely on good food and good customer service. Another factor that customers really appreciate is a comfortable space with good interior design. Restaurant Design is important to set the stage for the customers' dining experience. The design of a restaurant must find balance between its ambiance and seating capacity. As an entrepreneur you prioritize about the customers' maximum seating capacity to increase profit while at the same time making guests feel comfortable. This may differ on the type of restaurant. A diner may have more seating capacity while fine dining restaurants tend to put more effort on ambiance.
Choosing a go to place for lunch meetings, dinner dates, family gatherings or for a quick bite is easy if you know the basics about the restaurant's menu, ambiance, seating capacity and location.
FAST FOOD: Also known as quick service restaurants which focus more on convenience, low prices, and serving the most number of customer in a minimum amount of time. The food menu is limited to burgers, fries, hotdogs, burritos, fried chicken and so on. It's probably the most appealing type for most people on the go. The interiors of a fast food restaurant usually have bright colors such as yellow and red. They use metal chairs to give a strong support to their heaviest customers. The tables usually have reversible table tops or other type of laminate. These types of table tops are usually scratch and stain resistant and are easy to care for. Resin table tops are also popular for quick service restaurants as they are very durable and resistant to scratches, stains and nicks and have the appearance of wood.
FAST CASUAL: This has been a fast trending restaurant. It has upscale interior decor compared to fast food restaurants. They use high quality ingredients and the food is freshly prepared upon order. It offers a healthy menu which is ideal for customers who follow a strict diet. With its open kitchen design, customers may dine while watching their food being made while seated on a high chair stool. The table tops may be laminate or reversible table tops or a made of granite as these table tops are very durable and easy to care for. Steel is another common table top material for outdoor use or to blend in with a modern, industrial motif. Fast causal restaurants will usually have commercial chairs such as the metal ladder back chair. Metal chairs are ideal for these fast-paced commercial environments where there is heavy traffic. They are also easy to clean.
BUFFET: A go to place for people with big appetite where you can eat all you can. This self-service restaurant is usually packed with long tables for families. Seats vary from wooden to metal, depending on the kind of cuisine that they offer. Reversible table tops, laminate and veneer wood table tops are common for these types of restaurants because they are easy to care for. Restaurants and hotels that have buffets sometimes also have plastic tables and banquet stack chairs for extra capacity that can be easily stacked and stored.
CAFÉ OR BISTRO: Menu items can be simple; they usually serve coffee and sandwiches, and can range up to full entrees. This is a perfect go to place for casual dates; it has an intimate and relaxed ambiance. Outdoor seating is a trademark for cafes where they may enjoy their meal or coffee while smoking. These eateries will usually have solid wood or granite table tops. They give the interior a more sophisticated look and exude a warmer ambiance. These types of establishments will usually have wood chairs and bar stools for seating for a distinctive look.
FAMILY STYLE DINING: These types of restaurants offer waiting table service. Food is served in large platters where you share and serve your own portions. Customers are usually seated on booths providing a more cozy experience. These establishments will usually have solid wood or reversible table tops. The seating may feature wood or metal chairs.
FINE DINING: Fine dining requires a lot of attention to detail. You also need to have reservations months in advance before you get a taste of their food. You will get the best customer service experience in these restaurants. The interiors could vary from modern, minimalist to old fashioned. As the name implies, it offers the finest menu and ambiance for your dining experience. Seats are wooden but well cushioned keeping you comfortable while enjoying your food. You will not find reversible table tops in these establishments. These restaurants will usually have solid wood table tops and upholstered chairs as they have a more prestigious look and the investment in the high quality furniture and décor helps justify the higher prices, along with gourmet cuisine.