Canada's leading restaurant furniture distributor helps wine bar in Cambridge update their seating layout plans with new commercial seating.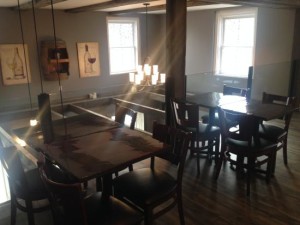 Restaurant Furniture Canada and Easy Pour Wine Bar work together to improve their décor with a set of Duna side wood chairs and matching bar stools.
Nicole and John Hall envisioned a perfect establishment where guests can experience high class dining with the world's finest wines. After years of planning this venue, their dreams were realized and Easy Pour was born. A husband and wife team, the Halls chose 1660 Blair Road as a perfect location to establish their business. The felt that the settings of the property in which they purchased would be an ideal foundation for their wine bar. The couple spends months on renovations and worked tirelessly to preserve the original characteristics and charm from what was formerly the Heritage home. The Halls share a passion for good food, wine and entertainment. Building Easy Pour to share their vision with the community in Cambridge was a dream come true for them.
With the goal to execute the perfect guest experience, the Halls ensure the patrons enjoy their visit and feel right at home. They do so with their growing talented kitchen/wait staff and hospitality experts. Easy Pour continues to expand as it has become an ideal spot to taste and discover the various wines from many regions around the world that they serve. There is always something for everyone whether you are a wine connoisseur or a novice taster. Their gourmet style menu features a variety of cheeses, breads and other dishes that complement their wines. If you are not a wine drinker, Easy Pour carries craft beers and specialty cocktails as well.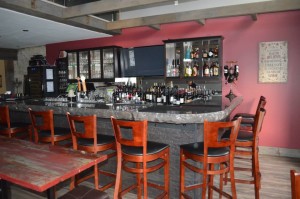 Over time, Easy Pour has attracted large crowds of people and the Halls realized they needed to update their commercial seating to maintain the restaurant's décor. They contacted Restaurant Furniture Canada for assistance with their seating layout plans for Easy Pour. They decided on the Duna Side wood chairs to furnish their dining room with. These uniquely designed wood chairs are competitively priced and are a perfect choice for upscale restaurants along with other luxurious venues. Customization options include frame finishes and choice for the type of seats which allow you to design these restaurant chairs to meet your specifications.
The Halls also felt that the Duna side wood bar stools would not only compliment their bar area but would also complete their ritzy décor. Much like the rest of the bar stools that Restaurant Furniture Canada produces and manufactures, these wood bar stools boast of durability and versatility and are made of top quality materials which allow them to resist heavy usage in any high traffic venue. They are also constructed to eliminate wobbling and provide comfortable seating to guests.
You can learn more about Restaurant Furniture Canada's wide range of commercial grade furniture, including special deals here: http://www.restaurant-furniture.ca/ or speak to a customer service representative at (888) 998-4222.
Easy Pour Wine Bar is located at 1660 Blair Road, Cambridge ON N3H 4R8. They can be reached at (519)  219-3279.