Restaurant Furniture Canada teams up with Bin 101 to upgrade its seating layout with new restaurant booths, laminate table tops, cast iron table bases, wood chairs, and matching bar stools.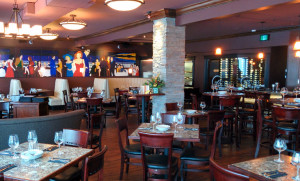 Canada's leading commercial grade furniture supplier provides new restaurant seating for bistro in White Rock.
Since its grand opening back in 2014, Bin 101 has undergone a long transformation from a rustic taco bar to an upscale tapas bistro. Under new ownership, the operational staff has tirelessly gentrified the restaurant. Bin 101 continues to ensure its customers a dining experience to remember with impeccable customer service, delectable food, and entertainment. The menu, created by the restaurant's head chef, is updated daily offering new fresh features. Handcrafted tapas are a specialty that are prepared and served in many different flavors.
The bar presents one of the largest wine selections known to White Rock; red wine imported from Italy to white wine imported from Australia. Cocktails, martinis, beers, scotches, and a variety of other special drinks are also offered upon request. Live music performances take center stage every Friday and Saturday night from 7:00pm to 11:00pm. Bin 101 has recently opened for lunch on Thursdays and Fridays as well.
Back when the restaurant was undergoing through its transformation, the owner needed restaurant furniture that would be cohesive with his upscale décor. Restaurant Furniture Canada had what he was looking for. With years of experience working in the hospitality industry, Restaurant Furniture Canada is the leader of the commercial grade furnishing business. With many styles and designs to choose from for chairs, tables, booths, and bar stools, this Canadian restaurant furniture distributor was able to assist the owner with his restaurant seating needs.
He furnished his seating layout with NK custom booths which he ordered with single and double seating.  The owner felt these restaurant booths would make a wonder restaurant seating addition due to their versatility. These booths are custom made and can be designed to match any décor. Customization options are provided with a variety of upholsteries.
Then he created several dining sets for his space with Restaurant Furniture Canada's Laminated Table Tops, each assembled with cast iron table bases. Options have no limits when it comes to selecting patterns, colors and edges for these restaurant table tops. The laminate inlay series ensures a solid construction on these table tops, making them scratch and stain resistant. Popular for their looks and performance, Bin 101's owner felt these laminated table tops were a perfect fit for his high traffic venue.
Competitively priced and constructed for style, the owner found what he was looking for with these Kingston Side Chairs. Built for commercial use, each of these wooden chairs is made of solid maple wood and comes with a padded seat made of vinyl or fabric. The solid wood back and frame is available in 5 standard finishes – mahogany, dark mahogany, walnut, cherry, and natural. The owner felt that the 4 slat design featured on these wood chairs would complement his décor. His opinions on the matching bar stools for his bar were no different.
To cruise through Restaurant Furniture Canada's full selection of chairs, barstools, table tops, table bases, booths and patio furniture visit http://www.restaurant-furniture.ca/ or contact a customer service representative at (888) 998-4222.
Bin 101 Wine & Tapas Bar is located at 1436 Johnston Road White Rock, BC V4B 3Z5 Canada. For questions about their services and hours of operation, they can be reached at (604) 560-1434.