Italian restaurant updates its restaurant layout and design new commercial furniture from Restaurant Furniture Canada.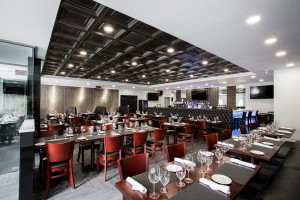 Canada's leading commercial furniture distributor redesigns Restaurant di Menna's interior with a set of restaurant booths, beechwood chairs, wood bar stools and tables.
If you appreciate a fine Italian dining experience, Restaurant Di Menna offers just that. Rather than having to travel across the Atlantic Ocean, you can taste authentic Italian cooking in Montreal. Though French is predominately spoken, everyone in Saint-Leonard understands the language of food. The décor, which has been redesigned, resembles that of old Europe with stone walls. If you are looking to have a romantic nigh out with your significant other, Restaurant Di Menna is the perfect venue for you.
When Restaurant Di Menna first opened back in 1971, it was merely a pizzeria offering delivery service and takeout. This restaurant has evolved as its popularity grew and owner Franco Di Menna decided to expand his business. The pizzeria currently has a dining room. Immersed in the scrumptious world of Italian cuisine, Franco embarked on a culinary journey to further advance his business by experimenting with new recipes and creating delicious meals that are immensely enjoyed by his patrons. In 1988, the restaurant underwent major renovations to match its high quality menu. Already combining fine dining and takeout, Restaurant Di Menna introduced its frozen "oven-ready" meals and fresh sauces to the menu in 2005. Eleven years later, the dining room was finally remodeled with new commercial furniture supplied by Restaurant Furniture Canada. Additionally, a sit-down bar serving specialty cocktails and beers was added.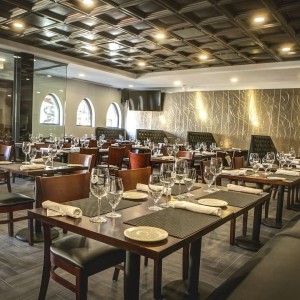 While undergoing renovations, Di Menna sought the expertise from Restaurant Furniture Canada for interior design ideas. Di Menna felt that an updated restaurant layout would be advantageous for business and Restaurant Furniture Canada was able to accommodate their restaurant seating needs with a set of button tufted back booths to start with.  Like the rest of Restaurant Furniture Canada's selection of restaurant booths, this booth is made of premium construction where durability and style are intertwined with each other. Customization options are provided and you can adjust the length, shape, or size of this booth in accordance to your specifications. This booth also includes a variety of upholsteries to choose from to match your décor. Popular for its versatility, this restaurant booth is in high demand among fine dining establishments. The button tuft design exhales an air of sophistication and compliments most décors.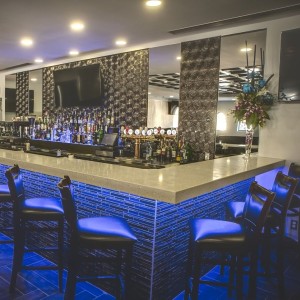 They furnished their dining room with a set of beechwood chairs accompanied by solid wood plank table tops assembled together with round table bases. As for the bar area, they decided on the upholstered back wood bar stools. Designed for comfort and strength, these wood bar stools meet the rigorous demands in the food industry and therefore ideal for high traffic establishments. The upholstered seat and back made of high density foam guarantee patrons comfortable seating which is one of the many reasons why venues, especially high-end locations, include them in their restaurant layout plans.
Learn more about Restaurant Furniture Canada's diverse selection of top quality commercial grade furniture here or contact a sales representative for more information at (888) 998-4222.
Restaurant Di Menna invites you to experience fine dining on 6313 Jarry East Street at Saint-Leonard, QC H1P1W1. They can be reached at (514) 326- 4200.