Leading restaurant distributor teams up with El Toro in supplying their restaurant with new booths, wood chairs, and wood table tops in preparation for their grand opening.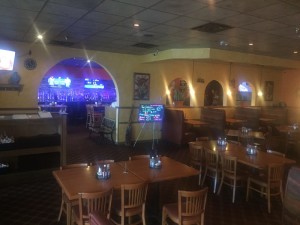 Leading vendor and manufacturer, RestaurantFurniture.net has recently joined up with El Toro, a Mexican themed bar and grill to rearrange their restaurant with a new set of American made booths, wood table tops, and matching chairs.
El Toro Bar & Grill is a casual neighborhood Mexican restaurant. They have several branches in the Dayton area. Founded by Victor Fuentes in 1998, El Toro was established out of necessity. Legendary for his "taco making", Victor has opened up El Toro in 10 locations across the Midwest.  The flavors of Mexico has traveled across the border and made its way to Green County, Ohio. El Toro brings a delightful fiesta to the local residents with an array of authentic traditional Mexican dishes.
Their Pollo Loco stands out in their menu as being the most savored dish by many of the Bellbrook residents. They also have a recently renovated bar where diners are presented with a tequila section with sangria being the top choice for many customers.  If you aren't typically keen on Mexican food, El Toro may yet convert you. With Happy Hour, live music concerts, Margarita Mondays, and Taco Tuesdays, you can partake in their full moon celebrations with family or friends.
In preparation for kicking off the grand opening of El Toro's Bellbrook branch, Victor Fuentes contacted RestaurantFurniture.net to help touch up with the restaurant's interior design. Reputable for their top quality restaurant furniture and excellent customer service, Victor relied on their expertise in delivering a fresh new look to his dining venue. He placed an order for their single 6 Channel Booth along with their Premium Solid Wood Butcher Block Table Top with a cherry finish and a Bullnose edge,  and matching wood restaurant chairs, all custom made and manufactured in the USA.
At an affordable rate of $218.00 per set, the 6 Channel Restaurant Booth is customizable in shape, material, and size. Popular shapes for this restaurant booth include a single, double, Deuce-Single/Double, Wall Bench, a ½ circle, and a ¾ circle. Customers are able to choose from a wide range of upholstery options – from vinyl and fabric provided by the supplier or they can use their own upholstery material. Other options for a head roll, welt cord, crumb strip, and laminate/wood caps for the seat and the back of the restaurant booth are also available.
Made in the USA, the Premium Solid Wood Butcher Block Table Top currently sells at a competitive rate for $82.00. This gorgeous restaurant wood table top is guaranteed to enhance the décor of any restaurant. This restaurant wood table top is designed for commercial use.  Constructed of ½" thick solid wood, each of these wood table tops go through a seven stage staining process for enhanced durability.
Customers can also find any  wood chair to pair with this specific table top. RestaurantFurniter.net has a wide range of restaurant wood chairs in different styles, wood finishes and styles. Each wood restaurant chair is made with mortise and tenon style construction includes a variation of upholstery and texture options.
For more information about RestaurantFurniture.net's full selection of table tops, table bases, chairs bar stools, booths, and patio furniture, visit http://www.restaurantfurniture.net/ or contact a customer service representative to help you with your questions on restaurant furniture at (800) 409-1115.
El Toro's Bellbrook branch is located on 4421 W Franklin St in Bellbrook OH, 45305. They can be reached at (937) 848-4565.