Canadian leading restaurant furniture and bakery in Mundare team up to update its seating layout with new metal chairs and granite tables.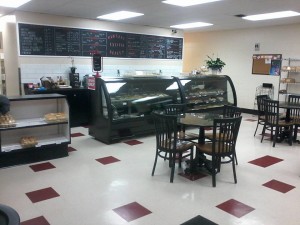 Restaurant Furniture Canada helps with Mudare Bakery with its seating layout arrangements with a supply of elongated vertical back chairs and granite table tops.
A small town with a big heart, Mundare exudes a lot of charm with its museums, national parks hiking trails and many more. The bakery is another attraction among locals and visitors. The bakery made its first grand opening back in 1926 but was assumed under new ownership in 2013. Mundare Bakery is an old fashioned bakery that strives for perfection in the food it serves to its customers. From breads, salads, soups, sandwiches, cakes to pastries, everything is made by hand from scratch in small batches.
Mundare Bakery also offers gluten-free and vegan selections. This home style bakery proudly celebrates its Ukrainian/German heritage by delighting its customers with freshly baked pashka, babka, kolach, and strudel. No preservatives or additives are used! To upkeep the bakery's interior; management recently renovated the dining space and needed assistance in their seating layout arrangements. A reputable commercial grade furniture distributor in Canada, Restaurant Furniture Canada guided them through finding the right seating for the bakery's warm décor.
Exclusively made for commercial use, the Elongated Vertical Back Chairs  were ideal for the bakery's seating needs.  These metal restaurant chairs are constructed to withstand heavy use in busy dining establishments. The fully welded frame along with the chair's long lasting powder coat guarantees maximum durability. Its classic style compliments any décor. Furthermore, the vertical slats add comfort and beauty to this metal restaurant chair. A choice for a solid wood or upholstered seat is available.
The Economy Granite Table Top is an affordable solution to give any eatery an upscale look without compromising on your budget. Attractive in both price and design, these granite table tops are easy to clean and maintain which was important to the owners at Mundare Bakery. Additionally, they felt that these table tops would provide that extra bit of elegance and beauty for their bakery which is what they were made for.
To view Restaurant Furniture Canada's full selection of chairs, bar stools, booths, table tops, table bases, and patio furniture, visit: http://www.restaurant-furniture.ca/ or contact a sales representative at (888) 998-4222. Be sure to keep yourself updated on our sales!
Mundare Bakery is located at 5231-50 street Mundare, Alberta CA T0B 3H0. They can be reached at (780) 764-3988 or at mundarebakery2013@gmail.com.