1951 West Kitchen gives its interior a new look with new restaurant booths and wood bar stools from Restaurant Furniture Canada.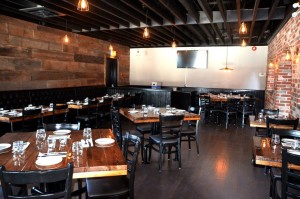 Canadian leading commercial grade furniture assists 1951 Kitchen with restaurant seating for its venue by providing wood booths and wood bar stools.
Located in West Ottawa, 1951 West Kitchen & Bar aims to provide guests with an ambiance that allows them to dine in comfort. The mission statement of this restaurant is to ensure the ultimate dining experience among guests through service, food, and drinks with the hope of converting them to loyal customers. West does their best to offer a unique, fun experience for its customers. This venue has something for everyone whether you want to impress your date with a romantic dinner or watch a game.
West also invites you to site back for a glass of wine or watch a game in their lounge. They also have a large separate dining room for social affairs. They guarantee customer satisfaction with the focus on serving exceptional quality food combined with excellent service at prices that deliver value for the meal.
As West grew in popularity in West Ottawa, the owner felt that the venue needed an upgrade with its look. He needed restaurant furniture that would match the warm, rustic, modern décor of his establishment. He saw Restaurant Furniture Canada as the solution for his seating needs. Without wasting further time, he contacted the restaurant furniture supplier to rearrange West's layout.
He furnished his dining space with the Button Tufted Back Booths. These restaurant booths are designed to provide guests with maximum comfort and added measure of privacy. Like all of Restaurant Furniture Canada's items, these booths are built to withstand daily uses in high traffic commercial environments. The repeating diamond pattern with buttons featured on these restaurant booths adds an air of sophistication to any dining venue which is one of the many reasons why the owner ordered them.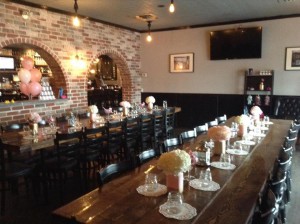 For the lounge, he purchased a set of 54 Ladder Back Bar Stools. These wood bar stools make an attractive addition for bars, cafes, or restaurants. Their classic and elegant looks compliment any décor. These bar stools boast of long lasting durability from their superior construction. These stylishly designed wood bar stools exude a warm and inviting quality to any location which is what the owner wanted for West.
To surf through Restaurant Furniture Canada's full selection of chairs, table tops, table bases, booths, bar stools, and patio furniture, visit: http://www.restaurant-furniture.ca/ or contact a customer service representative at (888) 998-4222.
1951 West Kitchen $ Bar is located at 1951 Robertson Road Ottawa, ON K2H 5B7, Canad. They can be reached at (613) 596-1611.