Sushi restaurant in Halifax works together with Canada's leading restaurant furniture supplier in upgrading the venue's seating layout with new metal restaurant chairs, booths, and table sets.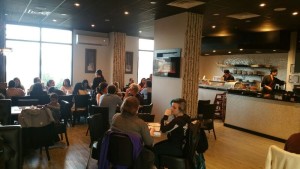 Restaurant Furniture Canada assists Sushi Nami in redesigning the restaurant's dining space with new button tuft booths, metal chairs, and laminated table tops secured with cast iron table bases.
If you appreciate innovation and authenticity, Sushi Nami may be just what you need. Located in the heart of Halifax, this sushi restaurant serves food that incorporates local ingredients with traditional culinary techniques.  Rather than sticking to rigid guidelines and ingredients, Sushi Nami fuses honesty, awareness and balance while having fun in preparing its dishes. Specialty rolls or maki made with sushi rice is a recent trend in most Japanese restaurants, especially at Sushi Nami.
With 12 successful years in the business, Sushi Nami's goal is to make its brand Canada's favorite dining spot with customer-first as its philosophy. The size of the storefront may give you the impression of a tiny sushi counter at first. As a matter of fact, it stretches from the sidewalk patio. Upon entry, you are greeted by the splashy red and black décor along with the staff whose attire coordinates with the color scheme. From rolls and dumplings to salads and even desserts, there are bountiful of textures and tastes at work on each plate.
Reputable for its authentic Japanese food experience and phenomenal services, the owner wanted to maintain the restaurant's status with furniture that is not only high quality but stylish as well.  He turned to Restaurant Furniture Canada, a well-known restaurant furniture manufacturer. With over thousands of restaurant chairs, booths, and bar stools in stock, Restaurant Furniture Canada offers many styles and designs to select from. Having worked in the food industry for 12 years, Restaurant Furniture Canada was able to assist the owner with his furniture needs.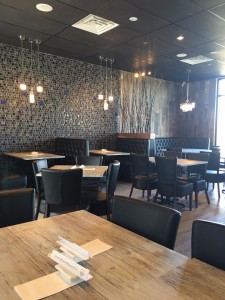 For the tables, he chose from the Custom Self Edge Laminated Table Tops as the size, shape, and color can be adjusted to meet your needs. Paired with durable X Prong Table Bases like the owner did, you are presented with high quality long lasting restaurant tables that perfectly match with any décor. Additionally, you have a wider choice of finished designs with a choice of wood edges in different stains.
Built for the rigorous demands of his restaurant, the owner saw these Brown Metal Chairs cushioned with black vinyl upholstery as the answer. Supported by a sturdy metal frame, these metal restaurant chairs provide additional comfort and are made to last. With the right padding, patrons can dine in luxury which was crucial to the owner.
Designed for style and built for permanence, these Button Tufted Back Booths are exclusively made in the USA by Restaurant Furniture Canada's skilled craftsmen. Constructed of American materials, these restaurant booths are designed to withstand heavy usage in high traffic dining establishments such as Sushi Nami. Customization options are provided and these booths can be altered in size or shape to meet your specifications.  A wide variety of fabric and vinyl options are available as well.
Learn more about Restaurant Furniture Canada's selection of chairs, bar stools, booths, table tops, table bases and patio furniture here: http://www.restaurant-furniture.ca/ or contact a sales representative at (888) 998-4222.
Visit Sushi Nami at 827 Bedford Highway, Halifax, NS B4A 0J1 Canada. They can also be reached at (902) 407-4649.