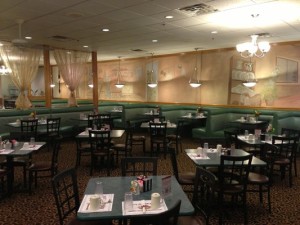 Creating a restaurant seating plan is one of the crucial steps of the planning stage in opening a restaurant. The seating plan you design depends on several factors. One of the main factors is the type of restaurant you plan to open. Will it be a quick service restaurant, a family-style restaurant such as a diner, a fast casual restaurant, a café or an upscale bistro? Each of type of restaurants will have different layouts. A quick service restaurant will typically feature tables and chairs with easy to clean, fixed vinyl booths along the walls. Family-style restaurants or diners will typically have more booth with comfortable, fabric or vinyl upholstery. bistros will usually have a mixture of chairs, booths and bar stools. Making a seating plan will help you experiment with various seating layouts and find one that meets your needs.
The next important factor is the number of guests you plan to serve. To determine this you will have to take into account space requirements for the dining room and the maximum safe occupancy of your establishment as determined by the local fire department or county planning zone commission.
One of the first steps in drawing up your seating plan is measuring the interior space of your restaurant and its areas such as the dining room, the kitchen, storage, restrooms, server station waiting area and any other area that takes up floor space. The floor area of your dining room and patio if you have one will help determine your seating capacity and your seating layout.
The next step should include a detailed layout of your restaurant's floor plan. The sketch should make note of windows and doors and include your measurements. The cashier counter and other stations should be included as well as anything else that will take up floor space. (more…)