New Hamburg inn updates its outdoor seating with patio furniture provided by Restaurant Furniture Canada.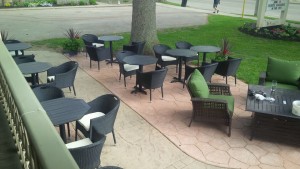 Canada's leading commercial grade furniture supplier helps Puddicombe House update its patio design with new outdoor chairs and tables.
Stepping in through the doors of Puddicombe House in New Hamburg will lead you to Ontario's history. Built in an elegant Italian architectural style back in 1868, this inn once served as a home of Samuel Merner, a prominent politician and businessman in New Hamburg. The house's exterior proudly displays characteristic Italian gables, porches that exude grace and windows heavily dressed in ornaments. The interior design of the house competes in elegance with the exterior. The glossy wooden floors, twelve foot ceilings, and ornamented bay windows exhale an air of grandeur to Puddicombe.
20 years later, Merner sold his house to Robert Puddicome which was sold again in 1969 and divided into 6 rentals. In 2004, Puddicombe House was purchased by the Cressman family which they converted to a commercial establishment featuring a bed & breakfast, restaurant, hair salon, and a spa. Honoring and preserving the Puddicombe's architecture and history was an integral part of the Cressman family's plans. Last year, they opened up a banquet hall that hosts weddings and social events to this very day. They even provide catering services for business meetings, family reunions with an extensive menu of appetizers, soups, salads, luncheons, dinners and desserts.
As the weather is warming up, many of Puddicombe's guests who frequent the inn prefer to dine outside. To maintain customer satisfaction as well as the success of their business ventures, the Cressmans felt it was necessary to update their patio design with sophisticated but durable outdoor furniture. Restaurant Furniture Canada seemed to have had what they needed. With over 10 years of experience and expertise in the food and hospitality industry, Restaurant Furniture Canada earned its reputation for its high quality commercial grade furniture complimented by its outstanding customer service throughout the country.
Ensuring comfortable seating for guests was paramount to the Cressmans. The Geneva Patio Chair with Cushion sufficed for them. This double-tube faux wicker patio chair is available in a black finish. It comes with a light cream colored cushion that allows patrons to dine in luxury which what makes it a desirable addition to any outdoor seating. They completed their patio seating layout with a set of these modish yet weather resistant plastic teak tops assembled together with and supported by X prong table bases.
Browse through our collection of our quality restaurant furniture and be updated on our clearances here: http://www.restaurant-furniture.ca/ or contact a customer support operator at (888) 998-4222.  
Check out Puddicombe House located at 145 Peel St. New Hamburg ON N3A1E7 or give them a call at (519) 662-2111.