Sports bar and grill in Alberta updates the interior design of its venue with new restaurant furniture supplied by Canada's leading commercial grade furniture.
Restaurant Furniture Canada lends its expertise and services in helping The Beer Hunter redesign its restaurant with new wood tables and metal bar stools.
Great friends and memories congregate at The Beer Hunter. This rustic bar and grill is a home away from home with most guests. From great food, drinks and live entertainment, The Beer Hunter has everything you need to unwind. You can catch all your favorite televised sports games, party with your friends, host social events, and enjoy music performances on the weekends. What's more, The Beer Hunter specializes in fundraisers. Take advantage of its package where the venue donates 10 percent off sales from food and beverage that is purchased for your cause.  All costs for the event tickets are covered.  The operational staff strives for par excellence customer service which they aim to create an impressionable dining experience for guests.
Don't feel like sitting around and waiting for your order? The Beer Hunter delivers everything to you. You can also download their APP to keep yourself updated on their menus, specials, events, etc. Overall, The Beer Hunter offers an atmosphere that you would expect from a pub. Customers are treated like longtime friends.  In efforts to maintain the ambience that the pub wanted to preserve, the owner felt the interior design needed to be upgraded with new restaurant furniture. He contacted Restaurant Furniture Canada shortly after learning about its reputation in craft making and manufacturing high quality seating. They were able to help him determine the appropriate furniture for his seating layout and décor.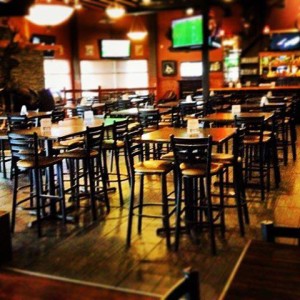 To give The Beer Hunter the pub feel that the owner wanted, the ladder back metal bar stools were highly recommended to him.  These metal restaurant bar stools are one of the most popular stools in the food industry. Sandblasted in black with an option for a wooden or an upholstered seat, these bar stools are a great seating addition to any bar, pub, or lounge. They can be used at an island in a kitchen or in a rec room. Their elegant classic look fits in with any modern or traditional interior design.  The long tampering legs and ladder-style back design featured on these bar stools is contemporary yet sleek.  Intended for commercial use, these bar stools are made to last many years of service in any high traffic dining establishment.
The solid wood butcher block table tops breathe a new life into any dining room. Known for their stability and versatility, these wood table tops fits with most of Restaurant Furniture Canada's table bases, including the X prong table bases which the owner ordered. Made of premium construction, solid wood is utilized on these table tops for lifetime use. Customization ranges from a choice of wood finishes to edge and top sizes.  A sales expert is available to guide you through designing these tables to meet your needs.
To learn more about Restaurant Furniture Canada's full selection of commercial grade furniture including sales, visit: http://www.restaurant-furniture.ca/ or dial (888) 998-4222 to speak with a sales/customer service professional.
Visit The Beer Hunt at 386 Saint Albert Road St Albert, AB TBN 2X1. You can also contact them at (780) 418-7867.