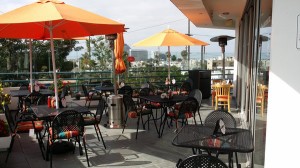 Summer is the best time to make optimal use of your patio or terrace. Outdoor seating is very popular with diners, especially when the weather is warm and comfortable. Customers tend to prefer sitting outside to enjoy the sun and enjoy the outdoor surroundings whether they are enjoying a meal on the backyard patio of a bistro or sipping coffee at an outdoor café. Making optimal use of your outdoor seating can be very lucrative for your business. There are many choices when it comes to patio seating and it's important to make an informed decision when you are shopping.
There are many choices when shopping for outdoor furniture. A smart option is to go with the stainless steel patio chair and stainless steel table top. Stainless steel has many advantages over other kinds of materials. For one, stainless steel is waterproof and rustproof. This is important for outdoor seating because if the furniture is left out in the rain or gets wet when hosing down the patio the furniture won't get tarnished or leave rust stains on the patio. Stainless steel is also very durable and looks new for many years. It cannot be infested with insects, get bent out of shape or develop mold, which are problems that can affect wood furniture.  It's very easy to clean stainless steel making it more sanitary as well. Most people like stainless steel for its elegant, contemporary look which can be paired with matching bar stools and tables. Stainless steel is also 100% recyclable.
Another option for durable patio furniture is the iron patio chairs. Like stainless steel, when zinc-plated, iron is rustproof, water proof and UV resistant. The tough iron frame is unbendable and is also cannot be infested with insects or mold. Iron tends to be heavier than stainless steel, which can be an advantage because they are unlikely to get blown away by wind. Some retailers offer iron chairs in a variety in a variety of styles along with matching outdoor tables and bar stools.
For a more exotic or tropical look consider faux wicker, faux rattan or aluminum bamboo patio chairs. Faux wicker and rattan are synthetic materials that are weatherproof and very attractive. These outdoor chairs are usually paired with a lightweight, aluminum frame and are stackable. Faux wicker and faux rattan have the advantage of looking just like real wicker and rattan, but is much more durable and can come in a variety of upholstery options. The aluminum bamboo chair comes with an aluminum frame that looks like real bamboo and is also weather resistant and is usually upholstered in a faux rattan bamboo seat and back.
Teak is also a popular outdoor furniture choice but it can require a lot of maintenance. Teak is a tropical hardwood known for being moisture resistant, but without proper care it can suffer fading from exposure to UV rays or water damage. Teak is more expensive than other woods, but fares the best outdoors which is why it's often used for nautical purposes. A smart alternative to teak is  Plastic Teak, which has the look and feel of real teak but is water proof and UV resistant. This revolutionary material is much easier to clean and maintain than real teak and is much more affordable. Plastic Teak chairs come in many styles and in a variety of finishes. Plastic Teak can also be found in matching bar stools and tables.
Resin chairs made from a durable poly-carbonate resin are also another option for patio seating. These chairs are lightweight and stackable. They are very popular at restaurants, resorts and outdoor seating events. Make sure the resin chair you buy has been tested for at least 3000 hours of direct UV light. Like plastic chairs, these chair are also water resistant but are more resistant to fading.
Properly storing you outdoor furniture is essential to making sure that last for many years and continue to look good. Whether you buy stainless steel, aluminum, resin, plastic-teak or wood chairs it's important to properly clean. Your patio furniture should also be stored or covered when not in use to protect them from the outdoor elements such as rain, wind and UV damage. If stored outdoors, patio chairs and other light weight patio furniture should be tied down to prevent them blowing away.