Bistro in Tifton redesigns its layout with new restaurant seating supplied by Seating Masters.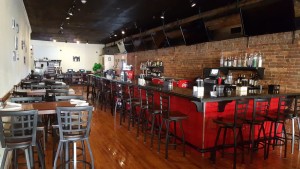 Leading restaurant furniture manufacturer facilitates 41 and Main with their seating layout effort by providing them with a new set of booths, tables, and swivel bar stools.
When you think of food, especially barbecue, 41 and Main should come to mind. Situated in downtown Tifton, this rustic eatery specializes in wood fire cooking that guests can't seem to get enough of. From pizzas to steak, all the dishes are made of fresh ingredients so you can expect the best. 41 and Main also offers a 24 foot salad bar along with seafood dishes prepared from the kitchen. This steakhouse earned its claim to fame through Myron Mixon who has won over 250 grand championships 4 times in Memphis. He brings the very best competition style barbecue to 41 and Main with the help of his son, Michael. As a result, customers frequently order from his inspired specialty dishes.
The diverse menu that offers a variety of choices in food provides more options for patron as well with Mixon's recipes. The management intends to expand the menu even further in the future. The restaurant currently has a balcony and a private board room upstairs that hosts social events and business meetings along with a full service bar and a wood-fire oven imported from Italy. With already 75 employees, the management is in the process of installing another kitchen downstairs and plans to offer catering services. With renovations underway, the management decided to upgrade the restaurant design with new seating.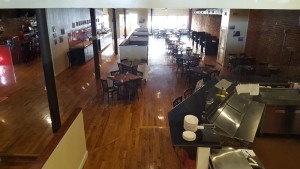 They contacted Seating Masters, a reputable commercial grade furniture distributor servicing to the food and hospitality industry nationwide. With their experience and expertise, the sales professionals were about to assist with the restaurant's seating layout.  Management was in need for high quality yet affordable restaurant booths that would be delivered to them within the time frame of 7-14 business days. Seating Masters' quick ship plain booths were exactly what they needed. Available in single or double, these restaurant booths include customization options for material, size, and height which customers appreciate.
Restaurant tables that are durable as well as attractive were very crucial to management. To create the tables they needed, Seating Masters supplied them with resin table tops which they assembled together with X prong table bases.  Resin is a popular choice for table tops among various dining establishments. Their water and scratch resistant glossy surfaces make them ideal for high traffic venues such as 41 and Main.  They also feature a 2 inch drop edge and are available in different sizes and finishes.
Management determined that the bar section needed a seating upgrade as well. They were pleased with the design on the window back swivel bar stools. Constructed of the finest American materials, these commercial bar stools are made to withstand heavy usage. They come standard with a black sandblast frame finish, a choice for a wood or upholstered seat, and floor glides. A 360 degree swivel mechanism is built into these bar stools which make them high in demand in the restaurant business.
Learn more about Seating Masters selection of chairs, bar stools, booths, table tops, table bases, patio furniture and even their latest items here: http://www.seatingmasters.com/ or contact a customer support representative at (888) 941-6888.
41 and Main are located at 343 Main Street, Tifton, GA. For questions about their hours of services, menu and more, call (229) 402-3145.