Mediterranean themed restaurant updates its restaurant design with new commercial grade furniture from Restaurant Furniture Canada.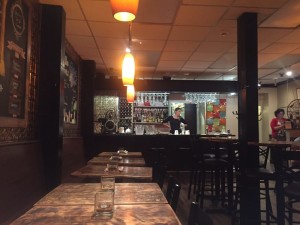 Canada's leading commercial grade furniture distributor helps Tavola Restaurant redesign its seating layout with new metal chairs, matching bar stools and tables.
Since its grand opening back in 2014, Tavola is a great destination for those who an affinity with Mediterranean cuisine. Restaurant owners Bob Hallet and Chef Peter Anthony bring are considered to be the true masters of their craft where creativity is encouraged. Along with their talented kitchen and wait staff, they bring one of the finest tastes of Europe to the heart of downtown St. John's. After spending quite some time in Europe, Bob was inspired to open a restaurant that reflected on his culinary experiences. Tavola's vision was to use fresh Italian rustic ingredients, specifically from Nice and Genoa, to recreate his own version of pasta dishes, fish, sauces, soups, and salads – the type of dishes that were unheard of in St. John's until recently.
Using local ingredients is important at Tavola as well – especially the ones that compliment Mediterranean cuisine the best.  Literally translated as table, Tavola uses a simple idea in which food should be presented and shared in a social fashion with loved ones – just like at home. With seating for at least 38 patrons, guests can feel at home at Tavola's.  Tavola offers a cozy and warm ambiance. The owners wanted to add a touch of sophistication to the restaurant design and were in need of commercial grade furniture that would not only help maintain the atmosphere they wanted patrons to appreciate but guarantee long lasting durability. They contacted Restaurant Furniture Canada and sought the expertise of the sales professionals with their seating layout plans.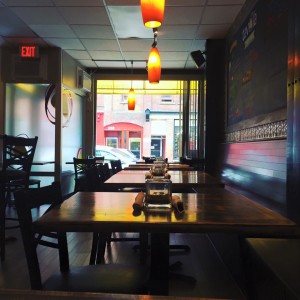 For seating, the owners decided on the X back metal restaurant chair. The classic and modern X back design makes with chair a beautiful seating addition to any dining establishment. Made especially for commercial use, this metal restaurant chair is constructed to meet the rigorous demands made in the food and hospitality industry.  With a choice of frame finishes and seating options, this chair can be tailored to meet the customer's specifications. A matching bar stool was all that the owners needed to complete Tavola's décor.
Build to offer maximum support and created the desired restaurant tables, the owners agreed that the cast iron table bases were the best choice.  These cast iron table bases are powder coated and include all the hardware needed. They can easily be assembled together with Restaurant Furniture Canada's variety of table tops. Put both together and you are assured an affordably priced yet high quality restaurant table.
Learn more about our diverse selection of restaurant furniture and don't miss out on our sales by visiting us here: http://www.restaurant-furniture.ca/ or dial (888) 998-4222 to speak with a sales representative.
Tavola Restaurant is located at 178 Water Street St. John's, NL A1C 1B1. They can be reached at (709) 754-1678 for questions about their business hours, menu, and services.