The Library Restaurant redesigns its dining space with new restaurant seating provided by Restaurant Furniture Canada.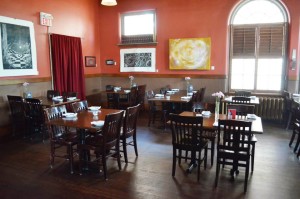 Canada's leading commercial grade furniture supplier teams up with seafood restaurant located in Midland to redesign its venue with new restaurant seating and tables.
Converting libraries into restaurants is not something you often here about but The Library Restaurant started this trend, hence the name. If you are looking for an elegant dining experience, the restaurant strives to ensure that with excellent service and great food. Situated in downtown Midland, the restaurant was originally the Carnegie Library that was built in 1915. Having converted to restaurant overtime, the venue offers a unique and vibrant atmosphere to patrons. With seafood as the restaurant's specialty and exceptional food that is prepared the day of service. The Library Restaurant aims to delight hungry guests with their mouth-watering dishes and make them feel right at home.
The restaurant's extensive menu ranges from a diverse selection of appetizers, soup, seafood/fish entrees to desserts. There are vegan options as well.  An 8 course tasting dinner is occasionally hosted with live music performances.  The venue also includes a bar section where patrons can enjoy their local craft beers. But that's not all. Below the restaurant is a study lounge – another option for a night out. This lounge is a perfect hangout with some drinks and entertainment. The lounge also has an open mike night every Thursday evening and concerts on the weekends.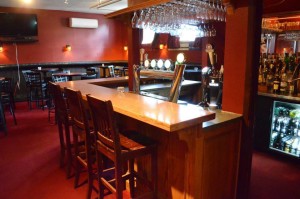 Though the owner decided to maintain the restaurant's exterior, he felt the interior design was in need of an upgrade which included new restaurant furniture. After learning about Restaurant Furniture Canada's reputation in crafting high quality commercial grade furniture and customer support, he contacted them and requested for their services in helping him find the right seating for his décor. He purchased several sets of the Designer Series Logan Vertical Slat Chair  and tables for his dining room.
For the lounge, he felt the Back Metal Bar Stools would make a wonderful seating addition to the bar area there. These attractive durable metal bar stools are popularly sought out by restaurant and bar owners. Their premium construction allows them to resist to the rigors in a busy commercial environment.  Customization options include a choice for a wooden or an upholstered seat as well as frame finishes to choose from. Plastic gliders are also featured to ensure the protection of both the stools and the floors.
To learn more about Restaurant Furniture Canada's full selection of chairs, bar stools, booths, table tops, table bases and patio furniture, please visit: http://www.restaurant-furniture.ca/ or contact a sales professional for questions on our items at (888) 998-4222.
The Library Restaurant is located at 526 Hugel Avenue Midland, ON L4R 1V7 Canada. They can be reached at (705) 528-0100 for questions about their business hours and services.