Leading restaurant furniture supplier works together with grill in Spring Texas to reorganize its seating layout with new wood restaurant chairs, matching bar stools and tables.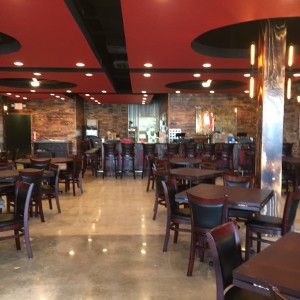 The Omega Grill seeks the expertise of Seating Masters in upgrading the restaurant's interior design with upholstered back wood chairs, matching bar stools and new tables.
Having grown up working for their parents at The Olive Oil restaurant in the Woodlands area, Marianna and George Huliaris were dedicated in sharing their Greek culture with the community. Years later, the siblings have expressed their passion and knowledge of food through their own restaurant, The Omega Grill. Located two doors down from their parent's restaurant, George and Marianna opened The Omega Grill 2 years ago at 399 Sawdust Road, Spring Texas.  The grill boasts of gourmet American soul food served in a laid-back atmosphere.
The siblings pride themselves in using fresh ingredients as being part of their culture.  Using Texas-based companies such as Bravado Spice and 44 Farms which produce all natural, gluten-free, hormone-free and genetically modified products, the siblings were able to achieve this goal for The Omega.  Along with soul food, The Omega features an array of local beers from 8th Wonder Brewery, Karbach Brewing Co., and Saint Arnold Brewing Company.
As they were broadening and localizing their wine selection, the Huliaris siblings took the liberty to upgrade the grill's seating layout with new restaurant furniture supplied by Seating Masters.  Reputable for being one of the most trusted commercial grade furniture distributors nationwide, Seating Masters were able to assist Marianna and George in finding  the appropriate restaurant furniture for their décor.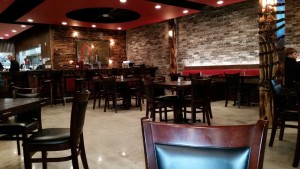 For the restaurant seating, they were drawn to the design featured on the Upholstered Back Wood Chair.  This wood restaurant chair is also attractive in its ability to withstand the rigorous conditions in the food industry. The chair comes standard in a dark mahogany finish with a wood or an upholstered seat.  To give their restaurant a cohesive look they wanted, the Huliaris' purchased matching bar stools for their bar.
Lastly, they furnished the restaurant's dining room with Solid Wood Plank Table Tops. These table tops are made of premium construction and designed to match the stain from Seating Masters' wood restaurant chairs and bar stools. Crafted and manufactured in the USA, these table tops are guaranteed to fit perfectly in any dining establishment. Available in 5 different finishes and multiple sizes, you are likely to find the table top you are looking for.
Keep yourselves updated on Seating Masters' selection of chairs, bar stools, booths, table tops, table bases and patio furniture here: http://www.seatingmasters.com/ or contact a customer support representative at (888) 941-6888.
The Omega Grill is located at 399 Sawdust Rd Spring, TX 77380. They can be reached at (832) 299-6665.