Italian restaurant in Etobicoke seeks the expertise of Seating Masters to configure a patio design for its venue.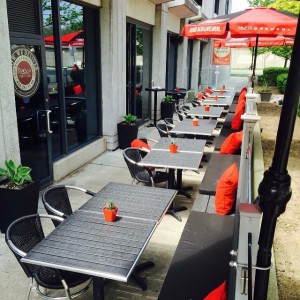 Leading commercial grade furniture distributor helps Rocco with its outdoor seating needs prior to announcing the grand opening of its patio.
Situated in a trendy lakeshore neighborhood area in Etobicoke, Rocco Restaurant & Bar offers a casual ambiance featuring a completely inspired Italian menu, delivery, social events, family dining and more. Patrons especially enjoy the cozy yet classy mahogany filled interior of the restaurant along with affordably priced yet exquisite dishes enabling them to dine in full comfort. Rocco's 7-ounce burger customized with avocado, bacon, mushrooms, cheese, and caramelized onions was voted as a lunch favorite among most diners. Dinner at Rocco's is just as exciting with an array of mouthwatering appetizers, flatbreads, pasta, and a variety of entrees to choose from. Most diners swear by the wild mushroom and truffle risotto and the restaurant's signature dish – pomegranate glazed rack of lamb.
Having recently undergone a complete renovation under new management, the owners have blasted the Wow factor with their latest patio design. When the weather allows, diners particularly enjoy eating outdoors. The owners were looking to give the patio design for their outdoor seating a contemporary flare. But most importantly, they needed patio furniture made of premium construction to resist against the harsh weather elements. With over a decade of experience working in the food industry, they contacted Seating Masters who was more than happy to assist them with their project with the hope to strengthen loyal patronage among the community of Etobicoke.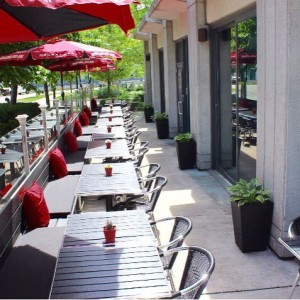 The only thing that separates longer lasting rattan from the look and feel of this material is durability. This Aluminum Patio Arm Chair with Black Faux Rattan guarantees just that. The patio chair's back and seat is woven with synthetic rattan that requires very little maintenance. Supported by a tough yet lightweight aluminum frame, this chair is ideal for indoor and outdoor commercial use.  This weatherproof chair is designed to last many years of services which were important to Rocco's owners. For only $61.00, this chair offers the best worlds of comfort, style and resilience which is why the owners order 32 sets.
A weather resistant table for a patio is just as important at a chair. Priced as the same as regular teak, this Plastic Teak Table Top is made from material that protects against water and UV damages. Starting at $80.00, this table top is available in a range of dimensions, shapes and colors. The X prong table base seemed like a practical assemblage that compliments most table tops. This cast iron base includes all the necessary hardware to create a long lasting robust patio table which is what the owners needed.
Learn more about Seating Masters' wide selection of commercial chairs, bar stools, booths, table tops, table bases and patio furniture here: http://www.seatingmasters.com/ or contact a customer service operator at (888) 941-6888.
If you are looking for a fine dining experience in the Toronto area, swing by Rocco Restaurant & Bar located at 2083 Lake Shore Boulevard, Etobicoke M8V 1A1. Or dial (416) 251-5100 to inquire about the restaurant's menu, services and hours of operation.