Canada's leading commercial grade furniture supplier teams up with software company in Toronto to redesign its seating layout for its kitchen and patio.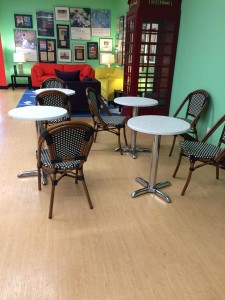 Restaurant Furniture Canada has recently furnished Ralota Technologies' kitchen and patio with a brand new set of aluminum bamboo chairs and Werzalit round table tops assembled together with X prong chrome bases.
Ralota Technologies is a cutting-edge software company that applies its passion to design breakthrough trading systems. With approximately 200 employees and 37,297 clients worldwide, Ralota uses technology to overcome some of the biggest challenges that the trading industry faces. Dubbed as the artisan of software, this high-tech company prides itself in taking the inspiration from artisans' centuries ago along with passion and drive to develop revolutionary technologies. Ralota works closely with its clients and colleagues to strategize and create integrated and innovative solutions.
Along with its many perks that employees enjoy, Ralota provides free breakfast, lunch, snacks and beverages.  The office kitchen and the patio have become a social hub for employees who frequently use those spaces during their lunch and coffee breaks. When the weather permits, the patio is a popular eating spot for employees. Keeping that in mind, Ralota felt that updating both the patio and kitchen with new seating was necessary. Management was looking for furniture that will provide comfortable seating and endure heavy usage for a while. Restaurant Furniture Canada was able to help find the right furniture that met managements' seating specifications.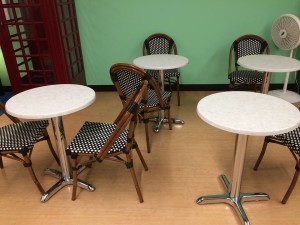 For seating, management unanimously agreed that the Aluminum Bamboo Patio Chair was the perfect choice for their needs.  Designed for indoor and outdoor use, this patio chair features an attractive design that would be welcomed in any dining space. The chair's aluminum frame is built to resist against harsh elements from the weather. The black and white rattan not only guarantees comfortable seating but also protects the chair from infestation, water and UV damages.
The material speaks in high volumes about the table's quality. The Werlitz Round Table Top is made of form-pressed construction that offers the highest stability. The high condensed core material makes this table top weatherproof and scratch resistant. This table top is impervious to chemical, thermal and mechanical influences. Furthermore, the closed surface is easy to clean and meets the hygienic requirements of the food and hospitality industry. Striking in quality and price, management felt that this table top would be a great addition for both the patio and cafeteria.
While assembling the tables, management decided on the X Prong Chrome Base to pair the table tops with.  Built from 18 gauge steel tube and coated with glossy chrome, this table base is exclusively designed for commercial use and ensures long lasting durability. Additionally, it is weatherproof and therefore can be used in patios and indoor dining spaces alike which was very important to the management at Ralota.
To be updated on Restaurant Furniture Canada's wide collection of chairs, bar stools, booths, table tops, table bases, and patio furniture including sales, please visit: http://www.restaurant-furniture.ca/ or contact a sales representative at (888) 998-4222.
Ralota Technologies is located at 60 Wesley St West, Unit 1, Toronto ON, M5S3L2. They can be reached at (416) 646-0475.