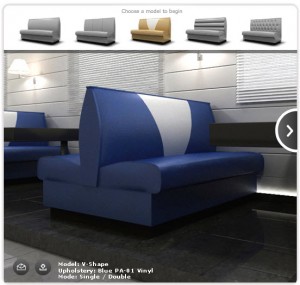 Over the past year we have given quite a few tips about marketing and managing a successful restaurant. However, designing a restaurant in such a way as to be both comfortable and efficient is a hard thing to do.
We have written a few articles about Feng Shui for restaurant and how to use it for our advantage but there are some even more basic aspects that need to be taken into account.  Things that at first seem simple and obvious and are therefore often overlooked. We are talking about correctly choosing the furniture to your dining venue.
For example, when you buy restaurant tables, it is often cheaper and easier to buy table tops and table bases separately rather than buying the table in one piece (shipping charges alone are worth buying the parts separately). The only problem with this is knowing which base goes with which top. You can buy the strongest base but it might mean that you are paying more than you have to. And although for one table this won't affect the price much, if you need a large number of items the price adds up to a significant amount.
This is why on Affordable Seating 's site you can find a number of tools that will help you in choosing exactly the items you need. You can find there a diagram that helps you match the table size to the number of diners and another one that will tell you the base size that best matches that top. (more…)