Who are your restaurant or bar patrons? Young sophisticates? Business lunchers? On-the-go young families? Retirees with time on their hands? Maybe all of the above?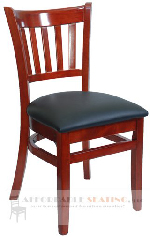 Who you serve should impact the restaurant furniture you select. If your customers can be counted on to be kind to your furniture, feel free to incorporate padded cushions on your barstools and chairs in color schemes and finishes that complement your décor. If toddlers make up much of your clientele, waterproofed cushions on chairs and booths are great, but make sure you also take a good look at the extensive selections of wood chairs, metal chairs, and table tops that don't require a lot of upkeep and special care. Middle-aged and retiree patrons will appreciate sturdy chairs and table bases that can safely support them as they sit and get up.
Looks count when it comes to restaurant furniture, but functionality should always be part of the equation.