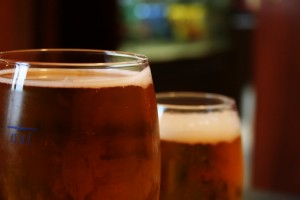 In The Modern Sports Bar: (Part 1), we looked at the importance of décor and people's perceptions when they first walk into your bar. Now, we will examine some of the other things you are going to need to have the best sports bar in the city.
What's On the Tube?
You need to have televisions and plenty of them. Choose high quality TVs from a reputable maker, such as Sony. They might be more expensive than some of the lower end televisions out there, but the picture quality is going to be better. You also need to spring for high definition. Since most people have HD in their homes and they already have large flat screens, you need to be able to compete.
You don't want to focus on only one sport, and that's why you need to have more than one television. You want to have as many as you can comfortably fit into the bar, and you need to make sure that you have satellite that works on all of the televisions so you can have them set to different stations and catch the most sports possible. This will help you appeal to a larger crowd. More sports equal more people.
Seating is Important Too
Something that many people don't consider when they are creating their sports bar or renovating the one that they already own is the bar's seating. Too often, they search online or through catalogs and choose the cheapest alternative for their tables, chairs, and bar stools.
This is a mistake. You need to make sure that you have high quality bar seating for your customers. Even if the bar furniture you choose is not the cheapest there are affordable options that will not leave you bankrupt. Remember, you want your customers to be comfortable, and a rickety chair just isn't going to cut it. If people aren't able to truly relax and feel comfortable, they will find another bar. Put some effort into finding the right bar seating and your customers will be much happier. As you know, happy customers are going to come back time and again.
Other Options
Consider adding an area for a pool table or darts. Rather than just watching sports on television, let your customers play a few of those traditional pub games while they are waiting for the big game to start. A fun idea might be to start a darts or billiards tournament and have a trophy for the winner that gets passed around whenever there is a new champion. Think of it as your bar's very own Stanley Cup. Your regulars will love it and the new customers might just decide to become regulars too.