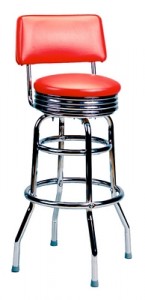 In a previous post we wrote about metal bar stools. This time we are focusing mainly on the different types of stools available and on tips for choosing the best stool for you.
But first, some history:
Bar stools are not only for bars. They can be used everywhere, in restaurants, dining halls, pubs and even in your home kitchen. Comfortable dining is a requirement for customers that want to relax in your cafe or restaurant, so having the right bar stools can help in providing an experience that ensures they return.
Originally, stools were the worst kind of chair; there were no support and no arms attached to them. The basic stool consisted of three legs linked with a rod functioning as a foot-rest and a little flat seat on the top. The most prominent characteristic of these stools was the uncomfortable seat they held.
As times change, so does the quality of modern materials. Things are changing for the better and today, bar and restaurant owners have at their disposal restaurant bar stools which are not only more beautiful but more comfortable as well. In many instances it is even correct to assume that these modern commercial stools are more comfortable than their chairs counterparts.
Types of restaurant bar stools:
There are several types of restaurant bar stools obtainable in the marketplace. Some of them are discussed below:
Restaurant bar stools are provided with both back and arms support. Seats, arms and back are manufactured entirely padded to make them more luxurious and comfortable. Three legged stools have been replaced with 4 legged ones or, as are commonly seen, with a single pillar designed rod. These barstools can also swivel in all directions quite easily and some even include a height adjusting option.
Unlike old wooden and metallic chairs, these comfy modern stools are actually created from numerous modern substances so as to make them more inviting and appropriate for various styles and decor from sophisticated to diner settings.
How to choose the right stools for your restaurant?
This is the biggest problem when we think to replace our old restaurant chairs with newly designed high class restaurant bar stools.
The first thing to consider when choosing bar stools is their height. While stools are manufactured in a variety of heights, the most common choices are labeled "bar height" or "counter height." Bar height stools typically have seats that are 30 inches (76.2 cm) high for use with a 40 to 42 inch (101.6 to 106.8 cm) tabletop, while counter height stools measure 24 inches (60.9 cm) for use with a 36 inch (91.4 cm) tabletop.
The most basic kind of bar stool is the artist's stool. Traditionally used to accommodate artists or drafters as they work, the artist's stool features a simple round seat mounted atop an adjustable stand. This type of stool offers the greatest range of motion, allowing the user to alternate between sitting, standing and leaning as needed. For dining establishments, backless swivel bar stools are the most commonly used as they are similar in style to artist's stools, but usually do not feature adjustable stands.
Bar stools without backs are most convenient in smaller spaces, as they take up very little room and can be stored entirely underneath the tables or bar when they are not being used.
With the vast assortment of styles available in contemporary bar-type seating, it is not hard to find the design that meets your individual space and decoration needs.
As a general rule, remember to allow for at least 26 inches (66 cm) of space between each stool in order to comfortably accommodate your customers.