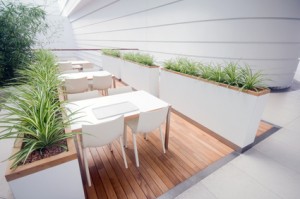 Choosing the right restaurant furniture for your facility can pose a challenge. This post explains factors that influence your choice and helps you decide.
Whether you are upgrading your facility or opening a new restaurant, thoughtfully chosen restaurant furniture can lend a unique and elegant character to your establishment. Ambiance and comfort are as important as the quality of food that is served, so here are a few tips on how to choose the appropriate restaurant furniture.
1. Restaurant furniture reflects ambiance. For example, if you have a place that serves fast food and milk shakes, then you might want to opt for funky and modern styles.
2. Have something for every age. A restaurant welcomes all its clients, which means you need to own everything from a few baby high chairs, comfortable armchairs for the elderly and everything in between.
3. If your restaurant offers both indoors and outdoor dining, then you want to invest in both kinds. Outdoor patio furniture could be made from more informal materials like cane or wicker.
4. Colors matter when it comes to choosing your restaurant furniture. Light colors suit a vibrant, upbeat ambiance while more sedate colors are appropriate for an elegant dining experience.

5. Invest in commercial furniture that holds up well under local weather. For example, if your restaurant were on the coast, you would want furniture that is geared to withstand warmth, moisture and winds.
6. Ensure that the restaurant furniture that you choose is easy to maintain. This expensive investment is intended for long-term use. Ask the supplier if they offer after-care services.
7. Customers come in all shapes, heights and sizes. See that your restaurant chairs and tables make everyone feel comfortable. For example, the height of the chair must be such that the customers are able to handle their meal comfortably.
8. Choose durable commercial grade restaurant furniture. A busy restaurant that caters to a significant number of customers should bear up well under heavy use. Avoid picking low quality restaurant chairs that will begin squeaking or sagging uncomfortably after a few months of use.
9. The furniture you choose must allow comfortable, spacious seating while saving valuable space. Measure out the space beforehand. If possible, have a seating plan ready before ordering your items so you can work within the limits of your venue with ease.
10. As with other expensive investments, always opt for reputed suppliers and manufacturers who offer you a warranty on their products.
Choosing the right restaurant furniture involves selecting the best while staying within your budget. The right restaurant furniture can help your restaurant evolve its own unique personality that keeps customers happy.