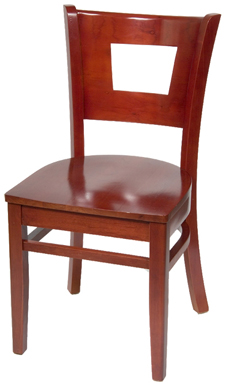 You've got it all planned out: staffing, equipment, interior décor, lighting, chef, menu. Maybe you're looking for somewhere to trim some dollars. With everything a priority, where do you start?
Do NOT start with your restaurant chairs. Sure, there are budget-conscious enough styles to be found, but make sure that budget does not translate to poorly constructed and uncomfortable. Before you know it, your patrons will avoid your eatery. Physical comfort is a priority for customers of every age and income. How many times have you heard people complain about a restaurant because of discomfort—sitting in a draft, poor lighting, heat turned up too high or too low, chair seats that are too high or too low, or chair backs that give a major pain in the person's back?
When it comes to creature comforts, be really careful about expecting your patrons to accept less-than-acceptable comforts.