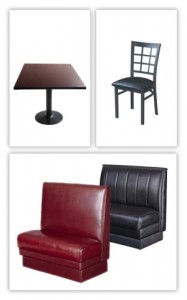 Affordable Seating.net have just added to their list of products some great restaurant furniture sets. This means that you will be able to order all your restaurant furniture in one go without having to spend extra time looking for matching items.
The sets include metal or wood restaurant chairs, matching bar stools or dining booths and table tops and bases, and are based on the company's customers purchases.
Even if you aren't looking to buy ready made sets we recommend going over them to get ideas of how to create your own sets and to see what other  restaurant owners are looking for.