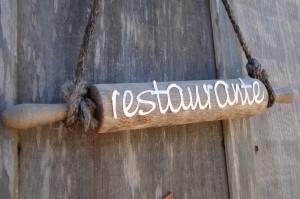 Designing a small restaurant or pub can require creative thinking to make the most of a limited space; knowing how to select the right furniture and layout is essential.
Small restaurants can have very big advantages for entrepreneurs, but can also present them with very difficult design challenges. A smaller venue brings with it lower costs and less overhead. The price of rent, as well as utilities such as heating and cooling, can be significantly lower. A much smaller wait staff and kitchen staff is also an advantage of a small restaurant or pub, and initial design costs will often be significantly lower in a smaller space.
Choosing the right layout and restaurant furniture for a small venue is essential to a customer's impression of the establishment. A small venue done right can come across as cozy, intimate and comfortable, whereas a badly designed small venue will seem cluttered, crowded and unpleasant. The following are three tips on how to choose the right furniture and layout to make a restaurant or pub a big hit in a small package.
1) Utilize bar and counter seating
Bar and counter seating is a great way to get a lot of people seated at your establishment, while still offering wait staff and customers ample space to move around. A bar placed on one side of the room adjacent to the kitchen with high bar stools is great not only for spacing – it also can establish a venue as a place to congregate in the neighborhood. Customers who might normally just be ordering food and soft drinks are much more likely to order alcohol while eating at the bar, which will definitely boost profits.
Counter seating along the restaurant's front windows is also a great way to save some space, and offer diners who value their privacy an appropriate seating option. Seating with a street view is pleasant for diners in your restaurant and can serve to pull foot traffic in from outside.
2) Install banquet seating
A long banquet against one wall of a restaurant with tables in front of it and chairs on the other side allows for great circulation in your restaurant so that wait staff can easily access tables and patrons can easily access the bathroom without having to navigate through a clutter of tables and chairs. A banquet offers the comfort of booth seating without taking up space that a small venue can't afford to spare.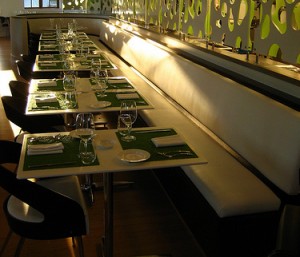 3) Use small square tables
Just because a venue is small, does not mean that it should not be capable of accommodating large parties if the need arises. Therefore, buying square restaurant tables as opposed to round tables is recommended to offer the utmost flexibility in adjusting seating for different sized parties. Square tables can be combined into bigger tables for large parties or separated to accommodate couples who want privacy.