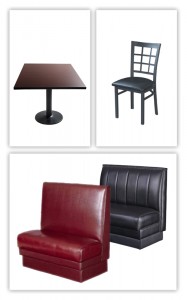 If you are planning to start any kind of business, you have to make sure you will consider the expectations of your customers. Always remember that customers are always right. Once you consider the expectations of your customers, especially in terms of dining out, you can easily attract more business.
Comfortable Seating and Fine Furniture
Let us first start with the basic expectations of customers when dining out. There are some surveys made which state that customers are expecting to be seated in comfort in a restaurant. Comfort is a factor for any dining venue with the exception of fast food restaurants where this is a less important aspect.
Comfort is not only about the chair you seat in; most customers are also looking at the rest of the restaurant furniture. Make sure that there are matching chairs and tables, wall paintings and other kinds of furniture that will spice up your restaurants and enhance the décor.
Fast Food Preparation Time

There are a lot of surveys which revealed that most customers when dining out are expecting their orders to be cooked in a relatively short time. No one wants to wait too long for the food to arrive. So when you are planning your restaurant, make sure that the production and preparation of orders are done in as minimal a time possible. You can use modernized cooking equipment in order to meet up with this expectation. Aside from that, you should train your personnel on how to prepare the meals quickly while at the same time not compromising on its quality. One way you can resolve this issue is to make the waiting time pleasant by having a live band or by creating a sound track that will make time go by faster
Sanitation
Who would ever want to eat in a restaurant that is dirty?  Even if the food is delicious the cleanliness of the establishment is a vital part of the experience. Food poisoning and even mild cases of stomach aches are always on people's minds when dining out and it is your job to make them feel at ease and forget those worries. Not only does your food preparation area needs to be clean but you have to make sure that all the dishes, tables and chairs are clean and the staff knows how to correctly handle the food while serving.
While the above points might seem trivial, sometimes during the everyday bustle we tend to forget the basics and unless we're reminded of them from time to time we might find out about it the hard way.