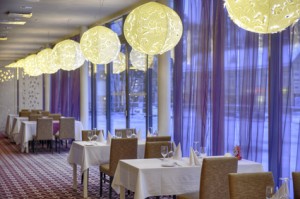 When determining how to select the best restaurant furniture the size of the room, the expected number of guests, and even how long you want diners to linger after finishing a meal will all have an impact on what style is chosen. Additionally, the style of the restaurant as well as entree prices, and whether the area is open or secluded from a lounge are factors which need to be considered. Many restaurants use a variety of table shapes and may mix chairs and booths to maximize seating.
Restaurant furniture is available in many styles and pedestal tables are one of the most commonly used. Long banquet tables are a popular option for adding extra seating for large groups as well as being popular for weddings and other festive occasions. Many restaurants will use a combination of these as well as adding some small tables for two or tall tables for more casual eating areas. Banquet tables are often used in conjunction with stackable chairs which minimize storage space and can be easily moved to other areas for additional seating when necessary.
The restaurant furniture used in a fine dining establishment, for instance a French restaurant which may be subdivided into cozier sections will vary from that used in a family cafe in quality and appearance. Tablecloths and glass tops are often used in conjunction with either end of the spectrum to dress up a room and make it easier for waitresses and waiters to clean.
Restaurant furniture seating arrangements may include tables and chairs and/or restaurant booths. Many diners enjoy sitting and relaxing in booths as they provide intimacy and comfort. They are generally beneficial to the restaurant as they can maximize space against a wall which or to divide the dining into different areas.
Determining the desired atmosphere and space requirements prior to purchasing restaurant furniture will help owners and managers develop a floor plan. It is often helpful to lay out a grid, either using software or paper and try different seating arrangements prior to buying. Additional tables and chairs are often purchased and stored for special events which require more seating. Stackable chairs and folding tables are perfect for this and require little storage space. Owners  and designers who choose real wood tables, such as intricate carvings with covered seats,  may prefer to rearrange pieces rather than adding to, thus requiring fewer stored pieces, however a few replacements should be considered. More rustic styles may use a combination of high and low round tables and chairs which may resemble bar stools. These are very popular in bar and grill situations and many owners will add purse hooks to the underside of tall tables.
Restaurant furniture which should not be overlooked includes seating for guests who are waiting on reservations. Both padded and non-padded bench seating is a popular option in this area. Restaurant furniture which can be used for both indoor and outdoor use is extremely popular, and many outdoor eating areas fill up faster than indoor ones do when the weather cooperates.