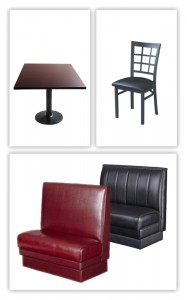 Serving tasty meals is only one part of running a successful restaurant. Restaurateurs strive to create the right ambience in their restaurants because they realize how the quality of furniture can pip the appeal quotient of a restaurant. Opting for first class commercial furniture is guaranteed to add overall value. There are several benefits associated with the purchase of good restaurant furniture:
1. The right restaurant furniture can speak volumes about the business. Among other things, it can create funky, comfortable, classy and elegant environments. It should also match the needs of the specific clients the restaurant caters for. For example, if it is a family friendly restaurant that wants to appeal to children, the furniture must be able to produce a friendly and comfortable vibe and be attractive to children and parents alike.
2. Carefully chosen furniture adds value to the relationship that exists between the customers and the restaurant. A favorite table or a preferred chair can add to the charm a customer can develop for a restaurant.
3. Convenience is another big plus. Customers often have bad experiences when a chair is too low for a table or a table is too tight for larger built people. Correctly chosen furniture can minimize such inconveniences to the customers. They can relax and enjoy a pleasant dining out experience without squirming uncomfortably in their seats.
4. Choosing the correct numbers of chairs and tables for the restaurant can make all the difference between a professional, well managed restaurant and one that might be perceived as low class or as unprofessional.
While selecting appropriate restaurant furniture, the color, size, style, price and quantity can have a tremendous impact on customer experience. Restaurants' revenue and growth depend on repeat, loyal clientele base to support them. Quality restaurant furniture helps create a warm and inviting atmosphere which is not only the goal of any restaurant owner but is also what a restaurant patron is looking for.
Tips for choosing good restaurant furniture
Make a survey of existing options. Examine online options as well and choose the best option for your needs, without exceeding your budget. The style could swing between elegant to contemporary to standard. The style must be compatible with the décor of the place. Quality upholstery adds class to formal dining places. There are plenty of colors and materials available. From dignified browns to daring reds to warm blues and from metal to wood to plastic, restaurant furniture can be ordered in any combination available from the manufacturer.
While appearance plays an important role, it is by no means the only factor that is important. Durability and resistance are two big factors in the equation. Restaurant furniture is manufactured for frequent and heavy use. Make sure you are ordering commercial grade furniture and not furniture made for home use as they are made to different standards. Look for manufacturers who offer good value for money. The cheapest doesn't always qualify as the best. Value for money would translate as good quality for a reasonable price.
Here are a few tips to help you choose the right furniture
High-backed wood chairs are great for formal high end dining – They will help keep your customers "hidden" from the rest of the diners and will contribute to a more intimate atmosphere.
If you are interested in creating a separate area for the bar and the dining areas then different furniture should to be purchased for each. For example, you can purchase matching bar stools and chairs but you can order  different colored seating or different wood finish and create a separation this way
Colorful tables and chairs create an informal and relaxed ambiance for customers and are also great for family friendly venues. Extra bits like baby high chairs and waiting area booths also help make restaurants more frequented by customers, especially families with children who are looking for a kids friendly venue.
The right ambiance can make all the difference between a successful and a failing venue. So choose the furniture that will help show case the restaurant in the best manner possible within your budget. And don't be afraid to turn to a designer for help if you feel you are getting a little stuck.