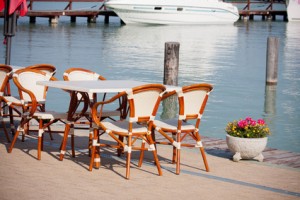 There are Hundreds of Options for Beautiful Patio Design
Much like the layout of a restaurant's interior seating area, there are endless options to beautifully design a restaurant's patio area. The right patio design can enhance the business of any restaurant. Small restaurants can look bigger with sprawling patio designs. Large restaurants can look even larger and grander with beautifully created patio designs. The extra seating created by a well-planned and carefully laid out patio design can help to enhance your revenues. You can do just about anything with your patio space. After all, patio designs can only be limited to the space that you have, the type of atmosphere that you want to create, and the amount of creativity you put into it.
Patio Designs and the Works
There are so many patio designs that you can choose from for your restaurant. For smaller restaurants with smaller areas, garden or sidewalk patio designs are the most popular choice. You can also opt for those charming courtyard patio designs if you have a nice little garden with a perfect spot for the sun. There are sidewalk patio designs which you can also choose to make that space in front of your restaurant come alive. If you love holding events and providing entertainment at your restaurant on a regular basis, decorative concrete patio designs will be perfect for you. They are great for hosting bands and entertainers. They can even serve as outdoor lounges to wait in with a drink or outdoor kitchens to stage elaborate public cooking exhibitions.
The Benefits
Having patio designs that work means additional and more flexible seating for your restaurant. A patio can be an extension of your interiors and double as a lounge, bar, seating area for families with children, buffet space or outdoor kitchen. Great patio designs can turn an otherwise boring exterior into an amazing pebble garden. Great patio designs can also maximize the use of an otherwise unusable and unattractive space on your property and turn it into a working and beautiful space for customers.
Some Tips
Your patio designs should not look like just a slab of concrete strategically dropped on a space outside your restaurant. It should look natural, beautiful and not overly done. The most functional patio designs should consider the amount of exposure to sun and shade. You must avoid placing your patio in a place where you get too much sun or too little shade. Otherwise, it would not be a very comfortable spot to eat in at a particular time of day. Also consider its proximity to the kitchen.
Remember, the patio is the extension of the interiors. You really do not want to walk a couple hundred feet from the kitchen to the outdoor seating area when you are trying to provide quick and efficient customer service.
You can opt to use the same chairs and tables you use for your interior for your patio area or select furniture especially made for an outdoor seating area. Restaurant patio furniture is designed to withstand the elements in a way that indoor furniture is not. The design of patio furniture, employing materials such as rattan, bamboo, aluminum, teak and stainless steel, is also designed different esthetically, usually lending a more casual feel to an establishment, although there are numerous options for more upscale and formal patios as well.
If you have one, put your patio somewhere with full access to a great view. Take advantage of your restaurant's view of the sunset, or the ocean, or the lake, or even the city lights at night. It will be a perfect backdrop to just about any kind of patio design. Make your patio designs work for you to maximize every inch of space.
This is definitely one of the best investments you will ever make in your restaurant.