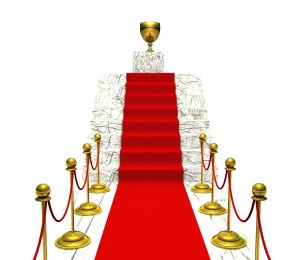 There are a large number of people who absolutely love to watch the Oscars, the Emmys and all of the different award shows. Some people even have parties and invite their friends over so they can watch the shows together. As a restaurant owner, you want to be able to draw people into your venue, and a great way to do that is to capitalize on events such as these.
You will want to start your promotions early. In fact, have an entire week dedicated to the award show, and even rename some of your dishes for movies, shows, directors, etc. For example, last year you could have had a True Grits breakfast dish that comes with grits rather than oatmeal. Coming up with names and specials should be easy enough to do.
If you have a large television, you might want to host a special night for the awards show and let people come to your establishment to watch. Turn it into a red carpet event of your own and charge an entrance fee that includes dinner and a glass of wine. You could even make it a formal or semiformal affair if you want. If you are going to do this, you need to make sure that you have the proper amount of restaurant seating and that it is comfortable enough for people to use throughout the duration of the show.
You might also want to have a contest. Create a large number of forms with all of the nominees on it. Make sure that the form has a space for the customer's email address as well. Anyone who comes in during the week or two leading up to the awards show will fill out the form with their predictions and their email address and return it to you after their meal. On the day after the awards show, you can go through the forms and see how accurate people were. Those who got all of the winners correct get a free meal. Those who have some right can receive a 10 to 20 percent discount on their next visit. Simply use their email to let them know what they've won.
There are plenty of ways that you can use events such as the Oscars, Emmys and the Grammys to your advantage as a restaurant owner. It just takes some imagination and a bit of work.