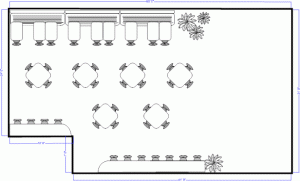 The restaurant business isn't one that takes kindly to learning on the fly. Customers are looking for good food and great service. They don't wish to be guinea pigs and have little patience for ineptness.
First time restaurant owners will thus need to work even harder to give themselves the best chance of being successful because their inexperience puts them at a disadvantage.  A good way to improve those chances is to study the business and then create a checklist. Making sure that everything on that list is completed to their satisfaction and according to proper restaurant protocol, prior to opening the restaurant's doors to the paying public, is of paramount importance. One of the most important areas that a new owner (or any owner for that matter) will need to focus on is restaurant layout.
A new restaurant owner is likely to feel overwhelmed at fist. This is to be expected. They will have a lot on their plate (no pun intended). Making sure that the restaurant is serviceable and ready to handle customers will require a lot of work. For instance, it will be necessary to find reliable and quality suppliers, hire staff, apply for the necessary licenses and permits.
Designing the restaurant, particularly the restaurant seating layout will be extremely important as well. First time restaurateurs and those without a lot of experience, often don't pay enough attention to restaurant layout and this is their peril.
Restaurant owners must be strategic in how they design their seating layout. It can't be done arbitrarily or merely based on aesthetic. While the look of the space is certainly important, it is also important that the layout lends itself to profitability. The restaurant's floor plan will affect the owner's bottom line.
The goal should be to create a layout that allows the wait staff to easily and comfortably serve guests without customer flow being compromised. It is important to avoid placing restaurant tables so close together that the guests have a difficult time moving about and the staff has a tough time delivering the food. The layout should obviously be aesthetically pleasing and professional looking.
Whether or not the owner is a chef whose passion for food has inspired him or her to open up their own restaurant or the owner is an entrepreneur hoping to make a profit, if they are a first time restaurateur, it is important that they have a firm grasp on how to successfully go about it. The restaurant business is tough. It's not for the faint of heart, the lazy or those who don't know what they are doing. A first time owner will need to work hard to make sure that they have all their bases covered.  Choosing suppliers, designing the restaurant seating layout and hiring staff are all tasks that must be completed before a restaurant is ready for business.