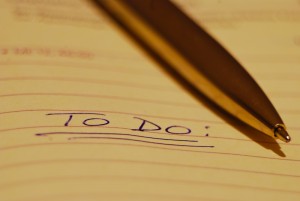 Before you open a restaurant it's important to have everything in order. When those doors open, it'll be too late and you'll get stuck on "putting out fires" instead of moving your business forward. For a smooth restaurant opening menus need to be set, ordered, the seating needs to be arranged, staff needs to be hired and prepped, etc.
To help you get a good start here's a quick checklist of things to do before the grand opening:
Create a menu. Before opening, the restaurant should offer certain types of food or cuisine. Some restaurants allow people to offer menu names on social networking sites like Facebook and Twitter. This is an easy way to outsource the task of naming items on the menu and a great way to publicize a grand opening. The menu should have, depending on your type of cuisine, appetizers, drinks, specials, main dishes, side items, desserts, and other courses if necessary. Depending on when you will be open, you should include breakfast and lunch sections. In one of our next posts we will discuss tips and ideas for creating successful menus.
Arrange seating. The seating will depend on the size of the restaurant and the ambiance required. If it's a laidback bar style, dining booths, bar stools and high-top tables are appropriate. If you have a patio, choose outdoor patio furniture that fits the desired atmosphere. For example, a country-style restaurant would have picnic tables instead of bistro tables for two. The walkways need to be wide enough for trays of food and people to pass by. You want to make seating comfortable, not cramped, so have tables and seats a set distance apart to allow people to get up and sit without disturbing one another. The tables should also be large enough for the plates, drinks, and flatware. Seating should be arranged in linear rows or a pattern which will make it easier for staff to work with, and more comfortable for customers as well.
Hire staff. Hiring the right people to work at a restaurant can seem more like trial and error. Waiters should have previous experience, although it's not hard to train them. Host staff have easier, less demanding jobs than servers, so hiring those with little to no experience would not create too many problems because it's an easy job to train for. Cooks and other staff members need to be familiar with the dress code, job requirements, and food before the restaurant opens. Most restaurants allow the cooks to practice by preparing all the different meals and serve them to the rest of the staff. This way, they learn how to cook the meals and the servers can better describe the menu to the customers.
Readiness test. Before the grand opening have a smaller pre-opening dinner. Invite a few guests to a private dinner, have your staff and your chef ready and after the dinner ask your guests and your staff for feedback. This way you will have time to address any issues that you might have overlooked and really be prepared.
Advertise. The most important thing to do before opening a restaurant is to advertise. This should be going on for at least a month prior to the opening date. Locals and tourists should be made aware of the grand opening. Publicizing on social networking sites is an effective and easy way to advertise. It's also relatively cheap. Other types of advertising include mail coupons, billboards, newspaper ads, web site ads, and word of mouth. Make sure that you've done everything you can to advertise your restaurant's grand opening. In the previous post "How to Have a Full Restaurant on Valentine's Day" some ideas for promoting a restaurant were discussed in more details.
Grand openings are only as effective and successful as you allow them to be. By following these steps (and a lot more) your restaurant should be ready for hungry customers.