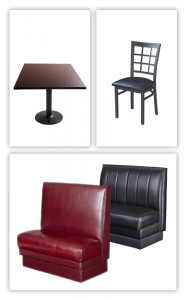 If you're a restaurant owner, finding high quality restaurant furniture at prices you can afford may seem daunting at times. When a restaurant owner buys furniture, he or she doesn't simply buy one chair or table, so finding items you can buy in bulk is essential. You need consistency in color and design to give your restaurant a clean look.
Whether you're looking for tables, booths, or bar stools, there's a company out there that provides exactly the restaurant furniture you need. Thanks to the Internet, the furniture that fits the theme of your restaurant is available at prices you can afford. The key is knowing where to look to find the best deals.
Restaurant seating comes in the form of booths, bar stools, and chairs, with the colors and comfort that will keep your customers coming back. Many restaurant furniture providers allow you to find the style you want, and then pick the color that coordinates with your decor. You'll then order the number you need and it will be delivered directly to your store.
The next decision is upholstery type. While fabric can have a more upscale look and be more comfortable, it can be especially susceptible to stains, which can obviously be a regular problem for restaurant furniture. Unless you plan to pay for regular upholstery cleaning, stick with easy-to-clean materials such as vinyl.
For the chairs in your restaurant, you have the choice between comfort and charm. Sometimes you can find both. When designing your restaurant decor, you'll have the choice between ornamental seat backs that enhance your decor and soft and cushiony seat backs that provide comfort to your customers. While wood seating can be nicer to look at, metals can be more durable and more lightweight. They are usually cheaper too.  Since restaurant chairs can endure quite a bit of abuse in the course of daily business, this can be a bonus for the restaurant owner.
Bar stools are another consideration. Gone are the days with backless stools for those who "belly up to the bar." Today's bar stools are expected to be just as comfortable as the seats in the dining area, with padding on the seat and the back of the chair to provide more comfort. Again, weigh durability against comfort and find something that will keep your customers coming back.
Tables are the core of your business. Unlike your chairs, your tables will remain stationary throughout the life of your restaurant, but they will endure spills, scrapes, scratches and multiple cleanings. As nice as wood is for your home, soap and water aren't recommended for cleanings, so consider getting a laminated table top instead. This table top will allow for easier cleaning while still providing the beautiful wood finish you desire.
Restaurant owners have special needs when it comes to furniture, seeking to find the balance between durability, comfort, and beauty. By considering your business' needs while still keeping your customers in mind, you'll find the best selection of chairs and tables for your restaurant.