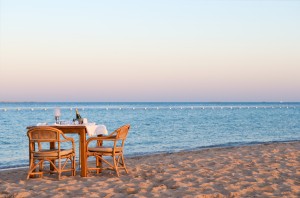 There are many business owners today who are taking the principles of going green at home and applying them in the form of restaurant advice in order to become eco-friendly, save money, and gain more customers in the process. The following tips should spark some ideas on what you can do to create a greener dining establishment.
Start reducing energy costs by saving water in the kitchen – Installing boiler-less steamers, energy-efficient dishwashers, and pre-rinse spray valves in the kitchen will save water and lower monthly energy costs.
Go green when redecorating – One piece of restaurant advice that is overlooked is that finishes and paints with low volatile organic compound (VOC) emissions should be used when redecorating.
Install energy-efficient lighting – If incandescent light bulbs are being used, start switching them over to energy-efficient lights and compact fluorescent bulbs. For accent lighting, use energy-efficient LED fixtures whenever possible. According to the EPA, energy costs can be reduced up to 20% by doing this, which in turn could mean an additional 33% in profitability.
Go greener in bathrooms – Convert sinks, toilets, and urinals to high-efficiency models. Be sure that the fixtures that are purchased and installed exceed efficiency levels mandated by the federal government.
Use caution with cleaning products – Look for cleaning products containing a reduced amount of harmful chemicals. Paper towels and plastic products that are being used should be made from recycled materials. Be sure to replace those older, noisy hand dryers with newer models that operate at high velocity.
Install renewable flooring – One of the best pieces of restaurant advice to consider involves the types of flooring materials used. Bamboo is highly recommended because it exhibits the durability of most hardwoods while at the same time being renewable. It can be grown sustainably and can easily regenerate within a few years. Additionally, always look for flooring materials that are formaldehyde-free.
Increase recycling efforts – Rather than just throwing away those things that would normally get tossed in the garbage, consider recycling by:
o Bundle up recyclable metals along with paper and plastic containers
o Collect burned out fluorescent light bulbs and spent batteries
o Compost food products
Not only is this better for the environment, it will increase the restaurant's revenue stream.
Replace counter tops – One of the more overlooked tidbits of restaurant advice involves the replacement of counter tops. Materials such as recycled glass and paper are oftentimes used to manufacture some very attractive and durable counter tops. When the time comes, consider replacing those old counter tops with ones made from recycled materials.
Practice greener grounds management – If the restaurant has a lawn area, work on reducing the size of it as well as the chemicals that are being used on it and the irrigation used to water it. Consider adding native plants and planting an organic kitchen garden.
The final bit of restaurant advice could generate additional customer traffic. On the back of the menus, print how the restaurant has taken the necessary steps to become eco-friendly and help to preserve the environment. This is sound advice for customers to take home and apply there as well.