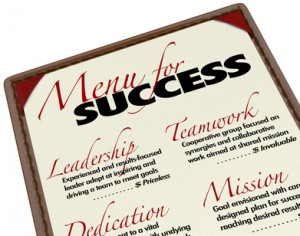 According to an article in Business Week, one out of four new restaurants is destined to fail within the first year. Over a three-year period, that number rises to three out of five restaurants. While this average failure rate is normal for new businesses across the board, it
is little consolation to those restaurant owners who become a statistic.
Priority is a key ingredient in the success of a restaurant. H.G. Parsa, an associate professor in hospitality management at Ohio State University, has determined through research and interviews that the difference between successful and failed restaurants hinges largely on the owner's commitment to be passionate and knowledgeable about the restaurant and the owner's willingness to invest large amounts of time and attention to the establishment.  This often means that the restaurant must become the number one priority in the owner's life.
The restaurant industry is so time consuming because there are multiple changing elements that must be continuously tweaked.  Some decisions – like the location of the restaurant – are one-time choices.  However, other decisions, such as menu items, prices, themes, suppliers, décor, and marketing should constantly be critiqued for improvement.
The staff is another crucial element in the success of a restaurant.  Hiring the right personnel for the right positions can greatly increase the restaurant's chances of long-term profitability.  Employees who interact with restaurant patrons must exhibit excellent customer service skills.  While training is important, hiring individuals who have a natural bent towards customer service is the most important factor. As leadership guru John Maxwell says, "Hire attitude and train for skill." Even those employees who do not interact with the public must be able to get along with the team, or they will de-motivate and demoralize the rest of the staff.
Once the team has been chosen, train profusely to ensure that everyone knows their role – as well as the roles of other employees – and is knowledgeable, comfortable and capable enough to serve patrons, field questions, and handle unexpected situations with grace and ease.  It is obvious why an employee needs to know his or her role; however, it is also important to have some knowledge of the other team members' roles as well.  During peak times, restaurants can be bustling, busy and chaotic, and this is not the time to try and figure out who performs what role.
Cleanliness – or the lack thereof – can make or break a restaurant.  In this area, do not cut corners in sanitation, or proper food preparation or storage processes. A low health inspection rating or negative word of mouth can cause irreparable damage to the restaurant's reputation. Cleanliness also extends to the restrooms, which should look spotless, smell fresh, and be well stocked with paper products.

The atmosphere and design of the restaurant should reflect the establishment's personality and should also cater to the intended customers.  For example, casual food such as barbecue ribs, fried chicken, burgers and other sandwiches generally fit a more laid-back atmosphere and design. On the other hand, when patrons frequent restaurants with more upscale menu items, they tend to expect a more upscale design and atmosphere to justify the higher price.
The importance of genuinely good, fresh food cannot be overemphasized.  People have been known to stand in line for hours to gain access to small, cramped restaurants with minimal furnishings and no apparent design motif.  Delicious food has this effect.  On the other hand, beautifully decorated eating establishments have sat idle and gone out of business because of lack-luster food.
Do not forget that most people go to restaurants to get good food at a good price.  Meeting this need, while providing excellent customer service in a clean environment is the most basic rule of successful restaurants.