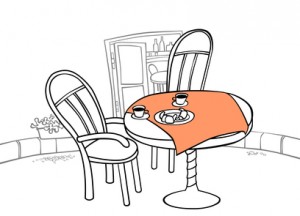 A restaurant can be so many things. It could be a meeting place, a place to unwind, or very simply a place to go to when no one feels like cooking! However, great food is just one of the many factors that contribute towards a successful restaurant. What could possibly be more important than attracting new customers and keeping that attraction alive and exciting? Customers are the biggest assets of a successful restaurant.
Here are 10 super tips that contribute to restaurant success:
1. CLEANLINESS – Cleanliness helps make that important first impression. However good the food may be, clean premises indicate that the food is prepared under hygienic and safe conditions. On a side note, it will also prevent pests like roaches and rats. Pay special attention to the state of the washrooms. Unkempt washrooms can be a huge put-off. Keep the place spotless!
2. AMBIANCE – Several factors go into deciding ambiance. The design of the restaurant furniture, the coloring of the walls, and the quality of the music – everything combines to create the right ambiance. A restaurant aiming at young crowds will have the latest numbers playing louder than usual.
Another one that caters to the wealthy or the romantic might opt for a muted, cozy ambiance. The overall effect must be warm and inviting. Avoid crowding up tables. Nothing is worse than being miserably crowded without elbow room to move the spoon and fork!
3. FOOD, FOOD AND FOOD – No amount of good management can work without good food! Get back to the basics. Great food will get customers back to the restaurant again and again. Make sure the food quality stays high. Make constant checks on food quality. Once in a while, bring variations in to the menu while keeping the old favorites intact. Nobody can say no to delicious food!
4. FOOD PRESENTATION – Tasty food must be backed up by tasteful presentation. Customers do not want the same old heaped bowls of salad or goulash. They get enough of that at home. Present the dish in a manner that tickles the palate. Learn food presentation from a professional. Show off the food in the best possible manner!
5. POLITE STAFF – This point can never be stressed enough in the field of restaurant management. How often do you hear about a rude waiter or an insolent manageress who drove away customers? People pay for food and service in a restaurant. Staff must be trained to be polite and deferential.
Get professionally trained waiters. Waiters should know when to materialize for an order and when to unobtrusively leave the customers in peace. They must also learn to be efficient and accurate while serving.
6. KEEP REINVENTING – Have a discreet corner for charging mobile phones and free Wi-Fi available. Get a website designed for the restaurant. Consider offering a take-way service for those who want to eat the food at home. Get the latest wines on the market. These are all vital contributors to good restaurant management!
7. WAITING AREA – It can be quite a juggling act to manage customers on busy nights or afternoons. Creating a tastefully designed and comfortable waiting area can allow people to wait without getting irritable. Get extra help in advance for the busy seasons.
8. ASK FOR FEEDBACK – While it can be galling to get negative remarks on the service or food, it is CRUCIAL to be in on it. Remember, there might be several customers who walked out without comment. They might never return!
9. CONSTANT SUPERVISION – Get down to some behind the scenes restaurant management. Keep track of food stores and left-overs. Keep a close eye on the accounts. Get professional help if required. Check the air-conditioning and heating systems to see that they work efficiently. Are they too old and running up terrible power bills? A restaurant runs for many hours a day. Keep it energy efficient.
10. GIVE A PAT ON THE BACK – The chef, the assistants and the staff are the backbone of a good restaurant. Give words of praise and thanks when they do a great job. If a waiter needs to be corrected, do it privately. Keep the staff happy!
Restaurant success requires a multi-pronged approach for optimum results. Be patient and persevering. Follow these essentials and the cash registers will start ringing like never before!