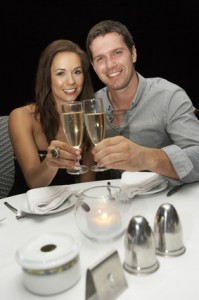 Restaurant management can be very difficult in these economic times. Here are several ways to not only weather the storm but actually grow your customer base.
The first piece of advice financial advisors give clients is to boost savings by cutting back on discretionary spending. To be more specific, financial advisors usually recommend limiting restaurant meals in times of economic difficulty. With the US mired in ongoing financial hardships for the foreseeable future, how can restaurant management successfully turn a profit when customers are clutching their wallets so tightly?
 Startling Statistics for the Restaurant Industry

The numbers are depressing. The research group NDP reports that restaurant visits declined from 62.7 billion visits in 2008 to 60.6 billion visits in 2011. Chain restaurants have weathered the tough economic times better than independent restaurants, but the restaurant industry as a whole is serving fewer customers. As long as unemployment remains high and consumer confidence stays low, customers will continue to spend cautiously. With U.S. unemployment at 8.1% and news of economic turmoil spanning the globe, restaurant owners and managers should expect more tough times.
 Can a Restaurant Really Grow in Tough Economic Times?
There is a silver lining, however. Although counter-intuitive to all the economic doom and gloom, this is actually the perfect time for restaurant management to focus on growing customer base. Because dining out has become a luxury for many, customers cherish the opportunity, viewing it as a special and memorable occasion. Smart restaurant managers can capitalize on this mindset in order to keep current customers coming back and build relationships with new patrons. All this equals a strong customer base once the economy improves and consumer spending increases.
 Tips on how to Weather the Economic Storm

The key to building a larger customer base is first realizing that eating out is an emotional experience. The economic downturn has caused eating out to be more of a conscious decision that usually hinges on a very specific reason for choosing to do so. Reasons vary from celebratory to escapism, but at the heart of the matter is a yearning to be taken care of.
To that end, restaurants should skip the gimmicks and focus on old-fashioned customer service. By exceeding expectations and offering memorable service, return business is all but guaranteed. In our automated world where human contact comes a premium and some companies charge an additional fee to allow customers the privilege of speaking to a human customer service representative, something as seemingly insignificant as a little human kindness can go a long way.
Keeping the customer at the heart of all decision-making will ensure a great dining experience and return visits. Everything from the appearance of the building to the temperature of the dining room can have a deep emotional impact on the customers. Pay attention to the smallest details because customers do notice. Among the things to consider are the following:
• Clean, well-dressed, and professional looking staff
• Knowledgeable servers
• Clean environment, from light fixtures to restrooms
• Well prepared food presented in an appetizing way
• Atmosphere
• Friendliness and helpfulness
Little touches don't cost much and greatly enhance the dining experience. Customers remember establishments where they feel valued and appreciated. Please, thank you, and excuse me are small words that have a big impact on the psyche. Service with a smile may sound contrite, but it is also precious and rare. Treating customers with integrity and respect will go a long way in bringing customers in the door.
Of course, restaurants also need to understand the customers' needs and wants and act accordingly. To this end, restaurant management may need to reevaluate the menu with an eye toward customers' budgetary constraints. Evaluate the cost of each menu item down to the price of packaging to determine price points. Track which menu items are popular as well as those that aren't, getting rid of weak performers to focus on the more popular fare. It may be prudent to replace higher cost offerings with more reasonably priced selections or a la cart options.
Above all else, don't succumb to price wars with competitors, as that is only a short-term fix. Once prices at a neighboring restaurant plunge, customers will flee. Making sure the menu reflects your customers' needs and budgets will reap long-term relationships that withstand pricing wars.
The recession may seem endless and all signs point to continuously low consumer confidence. Yet restaurants have the unique opportunity to sooth people's frayed nerves with a little pampering. Good food paired with great customer service will result in ongoing customer relationships that can help restaurants remain successful throughout hard economic times.