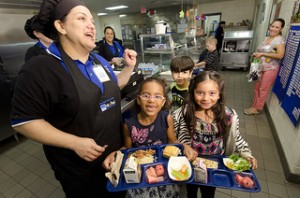 Restaurants are facing the challenge of updating their kids' menus to reflect the growing demand among parents for food that is healthier for their children.
Parents are becoming increasingly aware of the health of their children and are taking into account new factors when deciding where to take their kids out to eat. In order to stay competitive in today's changing market, and to be more responsible in what they serve children, restaurant owners face the challenge of providing healthier menu options geared toward children.
Traditionally, whether at quick serve restaurants or traditional sit down family establishments, kids' menus have offered simple, yet unhealthy food, loaded with sugar and salt that children have come to expect. Grilled cheese sandwiches, chicken fingers, pizza and hamburgers, served with French fries and soda, are usually on most kids' menus, with absolutely no healthy alternatives available.
However, this lack of nutritional balance has led to growing health problems among children in North America. Unhealthy eating has led to a childhood obesity epidemic which can lead to the very early onset of diabetes. In addition, the bad eating habits and the health problems we face as children often follow us into adulthood.
Recognizing the problem of unhealthy eating among our children is the first step in resolving the issue. Child health has gotten a great deal of media exposure over the past several years, educating parents about what they should and should not be feeding their children. Fast, unhealthy food has traditionally been the cheapest and most convenient. However, as the market has begun to recognize parents' demand for healthy food options for their children, restaurants have changed their kids' menus accordingly.
Any restaurant owner knows that appealing to families is vital for their business. The following are some tips on how to attract families with children in these times of increased child health awareness.
1) Offer healthy options to traditional kids' meals
Finding healthy food that children will like is indeed a challenge. Kids see going to a restaurant as a treat, and they will not be pleased with eating food that they do not like. Making a meal more balanced does not have to mean taking the fun out of it or making it less tasty. One common practice is to offer traditional main dishes, such as hamburgers or hot dogs, but to serve them with healthier side dishes and drinks. Instead of French fries and soda, offer vegetables or salad and milk or natural fruit juice. For dishes including pasta or rice, restaurateurs can offer whole grain varieties and the kids will likely not notice the difference. Low sodium and low fat meats and cheeses can also be substituted without taking away from kids' enjoyment.
2) Advertise a commitment to kids' health
Many parents are now choosing restaurants to take their children to on the basis of health as well as taste. In order to remain successful, a restaurant's advertising focus must shift accordingly. Restaurant owners can include healthy food as part of their larger advertising campaigns marketing themselves as child-friendly establishments. Some restaurateurs have introduced new healthy kids menus by offering kids eat free programs, or reduced price healthy kids' menus. Such measures may be necessary when trying to get clientele to try something new and different.
Restaurateurs can also target parents who have children with food allergies in their advertising. Millions of children suffer from food allergies, and offering special allergy menus can attract new patrons. Websites often compile lists of healthy or allergy-friendly restaurants which will serve as further free advertising.
3) Create a comfortable environment for children
Parents wishing to do the right thing and introduce their children to a healthy diet will find that the transition is not easy. Kids who have grown up eating unhealthy foods will be very resistant to a change in their diets. Television advertisements for unhealthy foods loaded with sugar and salt which are particularly geared toward children make it even more difficult for parents to make their kids eat right. Restaurateurs can help parents transition their kids to healthy food by offering the food in a friendly and fun environment that kids love. Offering comfortable restaurant booth seating, entertainment, such as coloring books, and fun themes for menu items can help change kids association of healthy foods from something boring and tasteless to something fun and exciting.