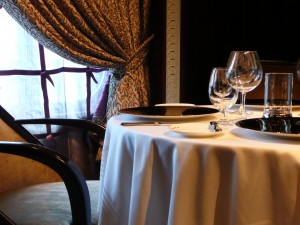 Managing a restaurant is a daunting task, especially if you do not have a strong background in the restaurant business. While the task may look daunting, you can still successfully manage a restaurant. There are several major aspects of managing a restaurant that should never be neglected; these include handling traffic generation, marketing, promotions, revenues and cost.
Traffic Generation, Marketing and Promotions
It is important to understand how you are going to get the attention of the surrounding masses. In today's technology driven world, it makes sense that you would harness the power of a website and social media. If you have taken enough time to build a nice venue, you should take a little bit of time to build up a web presence to match. A website should work in tandem with your physical location.
Secondly, your social presence is another part of your marketing that you should not leave out. You need aat least a Facebook page and if you have time and know how then also spend some time creating a  Twitter page and a Google+ page or  any other major social media page you can find. You want to be available on the web anytime someone searches for your restaurant or for a place to go out to.

Promotions can be costly up front, but they can pay off in the long run. Most businesses understand that you can lose money one month, but in the long run make ten times that amount. Managing a restaurant should be more than just employees and revenue; it should be about making a long term relationship with your customers.
Revenues and Cost
While traffic generation, marketing and promotions are important, they are not the only thing relevant to managing a restaurant. Actually, this is really one of the most important aspects of managing a restaurant. Revenue is the total income that your business generates. Cost is the total expense that your business spends each month. If your revenue is less than your cost, beware!
When managing a restaurant, you have to determine your supply versus your demand. You have to find that "sweet spot" when it comes to pricing. If you are selling steak, you have to find out how much is too much, how little is too little and then find the point where it benefits you the most while bringing in more customers; this is called the "sweet spot".
Restaurant Design
We hear it all the time, "Do not judge a book by its cover". However, most all of us do it on a daily basis. Therefore, you must take the time to make sure that your venue is aesthetically pleasing and welcoming.
A poorly designed restaurant is a big turn off. Your restaurant furniture makes a big difference in the feel of your establishment. If the restaurant furniture is not themed properly, it could confuse the patrons. If the restaurant booths are too small or even too big, the customers may gripe; remember, restaurant booths need to be big enough to handle those who might be a little bigger than normal but not too big so people get "lost", unless they are specifically made to accommodate large parties.
Always remember: you want your customers to enjoy every single moment of their experience. If they do, they will tell their friends, and everyone will benefit.