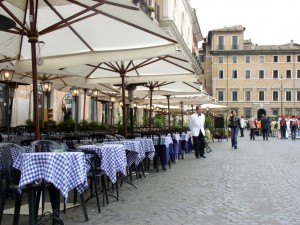 With peaks and valleys in business throughout the year, restaurant owners must find a way to maximize earning power during their busiest months in order to cover tougher periods in which they lose money.
As a general rule in North America, restaurants are far busier in the summertime than in the wintertime. This is mainly due to winter weather conditions discouraging people from going out and partly due to the holiday season encouraging people to stay home with loved ones. While marketing and promotions to encourage people to frequent a restaurant during winter can have a small impact on changing this trend, the money put into such campaigns does not always justify itself. Some habits, such as staying home during the wintertime, are just too deeply culturally ingrained in us, and advertising's effects on changing them tends to be limited.
Rather than trying to squeeze more out of the winter months, restaurant owners might be better served trying to take advantage of the busy summer months. So, here are a few tips on maximizing your business during summer:
1) People tend to venture out to eat far more in summer than in winter. Children are out of school, tourism increases and more daylight can mean longer business days for restaurants that cater to a daytime crowd. With that in mind, there are three groups to target with promotions during the summer months – families with children, tourists, and the twilight happy hour crowd. By coming up with your marketing campaigns with these groups in mind during the summer, you will find that your advertising is much more focused and effective.
2) Nothing is more frustrating for a restaurant owner than being so full in the summer months that you have to turn customers unwilling to wait for a table away, while in the winter months you regularly have empty tables. Expanding your restaurant to open an outdoor or patio area is the most effective way to solve this problem and take full advantage of the increased summer crowd.
Stainless steel or teak table tops with matching bases and brushed aluminum or aluminum and rattan chairs provide a relatively inexpensive way to add significantly more seating to your restaurant outdoors. Restaurant patio furniture is often sold in sets as well, a convenience that can help you easily plan your outdoor seating area.
3) During summer months people often choose a restaurant based on its outdoor seating opportunities and activities. Promote your outdoor area as an entertainment venue and not just a restaurant. Many cities have online lists compiling restaurants that offer outdoor seating. Decide if you want to allow smoking in your outdoor area and market it as either a patio with smoking allowed or a non-smoking patio based on your area demographics. The same applies to allowing dogs or no pets at all on your patio.
Having bands, DJs, comedians or other entertainment for your outdoor area is another way of getting much needed publicity and marketing for your restaurant during the summer months. Offering more than just food can often get you written up in the newspaper which is invaluable free press.