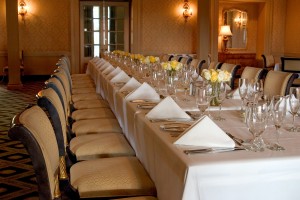 If you have a large space that you rent out for formal dinners, such as a ballroom, you want to make sure that the people who rent the room from you have a great setup. One of the things that you can do to make your room more attractive to potential customers is to have high quality ballroom chairs and tables. It may seem like a little thing, but it can make a big difference. With comfortable chairs that match the table, you can be sure that the people who come to the event will be able to focus on the festivities rather than on the furniture in the room.
You will also want to be able to rearrange the tables and chairs to accommodate each customer's needs. Some may need to have more room for a dance floor or for their entertainment. Make sure that you have the ability and room to move some of those tables out if you need to. After all, you want to be able to accommodate your customers.
While some customers will probably have their own ideas for decorating, and they may even be able to provide their own tablecloths and utensils, having some on hand is also a good idea. You want to make sure that everything you have is in good shape too. After all, the person renting out the hall wants to have a special evening. Make sure that you have enough on hand for the amount of guests that the customer has coming to the event. In fact, it might be a good idea to have more than you actually need, just in case there are more people than scheduled.
Consider creating a simple partnership with some of the other businesses in your area. By fostering a good relationship with caterers and restaurants that cater, as well as party planners, you can boost your business. You can suggest them to your customers, and they can suggest your hall to the people who come to them. It is a winning prospect for everyone who is involved.
Rather than simply renting out the ballroom or banquet hall, get involved and help your customer in planning a night that they won't forget. You can be sure that they will remember your hall the next time they have to plan an event. They will also let their friends and colleagues now.