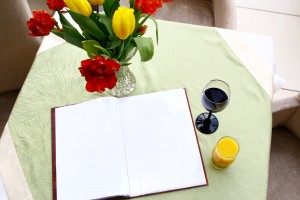 Whether you are designing your restaurant's menu for the first time or redesigning it, you'll need to keep in mind a few things your customers will notice. Not only will they concern themselves with food prices, but also with dish titles, colors, and decorations. The type of cuisine your restaurant serves should match the type of menu you hand out.
Your goal for a restaurant is not only to provide people with great food, but to make a profit. You want to price your food at something your customers will consider reasonable and fair. Prices that are too high will make your customers feel they are being ripped off. Although some scientific studies show that the more someone pays for something the higher value they place on the item, this won't be the case if what your customers pay for doesn't match the value they think they are getting. Keep appetizers in lower price ranges than your main courses. The same logic applies to side dishes and desserts. Also, foods that are hard to come by or require more manpower to catch, like seafood, may be acceptably higher priced than other dishes.
You want to also keep in mind the type of clients you're trying to bring in. If your clientele is mainly business executives, you want to have fine fare cuisine and simple, descriptive language for the different dishes. If your focus is on a family restaurant, you might want to consider including a kid's section or creating a separate kid's menu. Many restaurants create a separate kid's menu so the children can color and stay occupied.
Visually, the menu should also reflect the type of cuisine you're serving. A seafood menu may feature oceanic designs and colors while a Mexican food menu may feature warm colors and images that are associated with items you'd find south of the border. The idea behind the menu is to let your customers know what types of foods they can purchase and what types of cuisine they can expect from your restaurant. The more information your menu has about these things, the better your customers will be able to make an informed decision about the food and the restaurant.
For example, if you have an Italian restaurant that's kid-friendly and serves dishes family style, you'd want a menu that may feature a light coffee or brown colored background with script text for the title of dishes and a descriptive brief on each one. You'd also include images associated with Italy like vines and black & white photos of places in Italy. On the kid's menu, you could include a map of Italy for them to color.
No matter what type of cuisine you're serving, you want to make sure that your menu reflects the type of restaurant, is going to communicate with the type of clientele you serve, and will inform the customers about what they can expect from your restaurant. The menu is one of the most revealing things about a restaurant.
The language used for the titles of dishes lets the customer know if the restaurant is laidback or leans more toward fine dining. The design does the same. The menu is going to be one of the most direct ways your customers learn about your restaurant, so you want to make sure it will make a good impression. Some restaurants are placing their menus online—this allows customers to see what's available before they even step in the door so you definitely want to make sure that your menu is perfect.
Focus on food prices, design, color, the type of food, and the type of clients and you'll be able to let your menu do all the talking before they even get to the hostess stand.
If you want to read a little more about this here is an article on Wikipedia about Restaurant menu.